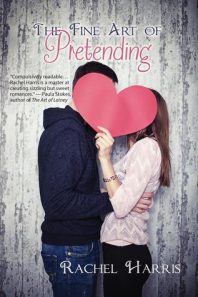 The Fine Art of Pretending
Buy on Amazon
Add to Goodreads
According to the guys at Fairfield Academy, there are two types of girls: the kind you hook up with, and the kind you're friends with. Seventeen-year-old Alyssa Reed is the second type. And she hates it. With just one year left to change her rank, she devises a plan to become the first type by homecoming, and she sets her sights on the perfect date-Justin Carter, Fairfield Academy's biggest hottie and most notorious player.

With 57 days until the dance, Aly launches Operation Sex Appeal and sheds her tomboy image. The only thing left is for Justin actually to notice her. Enter best friend Brandon Taylor, the school's second biggest hottie, and now Aly's pretend boyfriend. With his help, elevating from funny friend to tempting vixen is only a matter of time.

But when everything goes according to plan, the inevitable break up leaves their friendship in shambles, and Aly and Brandon with feelings they can't explain. And the fake couple discovers pretending can sometimes cost you the one thing you never expected to want.

If I say it once I will say it 100 times, I love friendship into love books. I'm drawn to them for some reason. When I see one I need to read it almost immediately. I don't know if it is the tension, the flirting that happens or the fighting of the feelings, but these books are some of my favorites to read. So when I heard about Rachel Harris' newest The Fine Art of Pretending I knew it was a must read for me.
The story is about Aly, a high school senior that is desperate to look like more than she is. She has always been the friend to guys, the confidant, but now she wants them to look at her like they want her. She is just tired of being the friend. Hatching a plan to change her tomboy clothes into more form fitting girly stuff leads Aly to her best friend Brandon, one of the hottest guys in school and her best friend. Figuring the only way for guys to see her as more a hook-up than a relationship she needs to play the part, or at least pretend. When Brandon agrees to "hook-up" with her the lines between friendship become muddled and feelings get hurt. With their friendship on the line Aly and Brandon have to figure out just where their hearts and heads lie.
So cute! Just cute, cute, cute! I loved Aly and Brandon so much. And I love that I got to see inside both of their heads with a duel POV. It was perfectly awesome. I wanted to smack the two of them a lot of the time as their communication was terrible, but I got where they were coming from. And I think we have all been an Aly at some point in our life and even a Brandon to some extent. You never want things to change or to lose yourself to someone, but sometimes those things are inevitable and it was fun to see these two struggle with that. And this book benefited greatly with the duel POV.
The only reason I didn't rate it higher was some of my confusion on Justin. First he was super sleazy. He would leer at Aly and this gross way. It creeped me out. And then he would be all sweet to her and understanding. I didn't get which was the real Justin. And he was a pretty big part of the book for me to be that confused by him. I'm hoping this was done for book two purposes, but without knowing for sure it turned me off some. But besides Justin the other side characters were great. Gaby, Drew, Kara and Carlos were the perfect sidekicks. They were supportive but also truthful which I liked. And Aly's little sister was adorable.
The Fine Art of Pretending was pretty much the perfect book at the perfect time for me. I had just come off reading a fantasy before reading this and I needed to be swooned. Harris definitely did not disappoint. It was fun and flirty and adorable. I could have used a little more kissing in it though. HA. Seriously though it is one that I would definitely recommend if you are looking for a fun contemporary read.
Related Posts