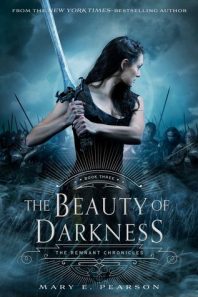 The Beauty of Darkness
by
Mary E. Pearson
Series:
The Remnant Chronicles #3
Published by
Henry Holt and Co. (BYR)
Published:
August 2nd 2016
Buy on Amazon
Add to Goodreads
Lia and Rafe have escaped Venda and the path before them is winding and dangerous - what will happen now? This third and final book in The Remnant Chronicles is not to be missed.

Bestselling author Mary E. Pearson's combination of intrigue, suspense, romance and action make this a riveting page turner for teens.
I received this book for free in exchange for an honest review. This does not affect my opinion of the book or the content of my review.
Truth…when I finished The Beauty of Darkness I kept tapping (I was reading on my iPad) for more pages. I was looking for more words; I was looking for the story to continue and sadly it was over. That's the problem with the final book in a series, when it's done it's done and you're left wanting more. Especially if it a series finale as good as Mary Pearson's The Beauty of Darkness.
This is probably the hardest book to review. It was so good and Mary did an amazing job connecting all three and that is where the problem is. All three books are so connected with tiny details and stories that it is hard to point out just what I loved most in BoD. I mean the first book, The Kiss of Deception, is built entirely on the audience not knowing which boy is which in Lia's life. It's hard because I can't say which boy is my favorite and I can't say what impact each have on Lia without giving it all away.
I guess what I can talk about was how Mary made me an emotional mess reading. Some of the story just gutted me and made me cry. It was so hard to read which is a testament to Pearson's story telling. She really used everything she gave you in the first two books and interwove them into a final story in the life of these beloved characters. I was on the end of my seat, I was scared, I was sad, I was happy, I was swooning. I felt a plethora of emotions (Mary can attest to this because I was DMing her these feelings) and in the end I still want more. I want more of the side characters and I want more of the main characters and I just want more of all of their lives after everything that went down did.
This is probably the vaguest review I have ever written but it is truly for your benefit. Nothing in these books should be given away as it all unfolds beautifully and it is something you should enjoy while reading. If you haven't started the series I insist you do and if you have then definitely finish it. You won't be disappointed.
Save
Save
Related Posts