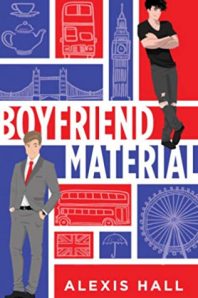 Boyfriend Material
by
Alexis Hall
Published by
Sourcebooks Casablanca
Published:
July 7, 2020
Buy on Amazon
Add to Goodreads
Wanted:
One (fake) boyfriend
Practically perfect in every way

Luc O'Donnell is tangentially--and reluctantly--famous. His rock star parents split when he was young, and the father he's never met spent the next twenty years cruising in and out of rehab. Now that his dad's making a comeback, Luc's back in the public eye, and one compromising photo is enough to ruin everything.

To clean up his image, Luc has to find a nice, normal relationship...and Oliver Blackwood is as nice and normal as they come. He's a barrister, an ethical vegetarian, and he's never inspired a moment of scandal in his life. In other words: perfect boyfriend material. Unfortunately apart from being gay, single, and really, really in need of a date for a big event, Luc and Oliver have nothing in common. So they strike a deal to be publicity-friendly (fake) boyfriends until the dust has settled. Then they can go their separate ways and pretend it never happened.

But the thing about fake-dating is that it can feel a lot like real-dating. And that's when you get used to someone. Start falling for them. Don't ever want to let them go.
I received this book for free in exchange for an honest review. This does not affect my opinion of the book or the content of my review.
Fake boyfriend stories are hands down some of my favorite stories. I have loved it in soap operas and other TV shows and movies and in books. It is such a great troupe because you know the lines from fake to real will blur and feeling will be caught and everything will change. It's predictable and comforting and I love it. So whenI saw Boyfriend Material popping up on social media the cover intrigued me and then I read the description and saw it was a fake romance, I was hooked from the get go. And I am happy to report it fit all the things I have come to love about fake romances and left me just wanting more of these two.
Boyfriend Material starts with Luc, the son of a rock star couple that hates all the media attention that comes with famous parents. All it does is ruin his life. After an unfortunate incident that leads to some bad press Luc finds his job on the line. He needs to do something to change his image and do it fast. Enter Oliver Blackwood. Oliver is everything Luc isn't. He has a solid job as a barrister, is related to no one famous and on paper, looks like the perfect fake boyfriend even though they are complete opposites. But as the two of them start spending time together something shifts. Instead of being opposites they find a connection that could easily turn fake dating into the real thing. The question is, are they ready for it?
Boyfriend Material was truly and entertaining book. Luc and Oliver were such an unlikely pair but they worked so well together. Oliver seemed so posh and stuffy while Luc was all over the place and a mess. But something about that just made them work. They were so charming together and I loved how they flirted and joked around. They were truly perfect for one another. And their friends were the best! They knocked them down when they needed it and lifted them up when they need the push. Both groups of friends were the sounding boards they needed and added something to the story.
I really, really enjoyed Boyfriend Material. It was utterly British and made me laugh from the first page. It also broke my heart and made me extremely happy. I had an issue with one part that swayed this book from being a completely perfect reading experience, but even with that blip I HIGHLY recommend picking this one up and falling in love with Luc and Oliver.
Related Posts