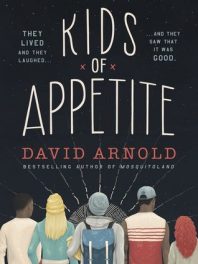 Kids of Appetite
by
David Arnold
Published by
Viking Books for Young Readers
Published:
September 20th 2016
Buy on Amazon
Add to Goodreads
Victor Benucci and Madeline Falco have a story to tell.
It begins with the death of Vic's father.
It ends with the murder of Mad's uncle.
The Hackensack Police Department would very much like to hear it.
But in order to tell their story, Vic and Mad must focus on all the chapters in between.

This is a story about:

1. A coded mission to scatter ashes across New Jersey.
2. The momentous nature of the Palisades in winter.
3. One dormant submarine.
4. Two songs about flowers.
5. Being cool in the traditional sense.
6. Sunsets & ice cream & orchards & graveyards.
7. Simultaneous extreme opposites.
8. A narrow escape from a war-torn country.
9. A story collector.
10. How to listen to someone who does not talk.
11. Falling in love with a painting.
12. Falling in love with a song.
13. Falling in love.
I received this book for free in exchange for an honest review. This does not affect my opinion of the book or the content of my review.
Kids of Appetite was my introduction to David Arnold. I had never read his debut novel, Mosquitoland, so I had no idea really want to expect from his writing. I have to say I was surprised by what I found. The story for me was confusing at times, like I had no idea why things were happening. Like I read the back of the book and for some reason created an idea on what Kids of Appetite would be like and I was wrong so that through me off. But really it just made the story a little more complicated. Honestly though what I enjoyed most of Kids of Appetite were the characters. Now those kids were one complex group.
Vic: Based off the description I had no idea that Vic had a unique situation going on and had a medical condition. I was surprised by that and by what it effected in his life because I had never heard of it. But what I was surprised with most was how Vic handled peoples reaction to his condition. For 16 I don't think I would be that okay with people looking at me. Admittedly I thought Vic was weird at parts, but I think that really was part of his charm and I loved seeing him come to grips with the death of his father and make some very unexpected connections on the way.
Mad: She was my favorite of the group (or a toss up between her and Coco). Mad had a tough life. She wasn't like the kids she hung out with. She had a place to go and some one that she loved. But she also had a terrible home life that she shouldn't have been a part of. She broke my heart but I loved every minute of her journey.
Baz: We didn't get a lot of Baz really. I feel like he was in an out even though he was a presence in a lot of scenes. Actually he was a huge part of the plot when all is said and done. But what I liked about Baz was his loyalty and his need to help people that needed it. He was shaped by the situation he was in before coming to the US and he used that pain to make something of himself and his brother.
Nuz: Baz's brother was a hard character to know as he doesn't really say much. He is tough to trust people but when he does you know it with or without words. He was the quiet part of the story but I think one of the more important parts.
Coco: This kid was so funny and crazy and off the wall. I liked her spunk immediately. She had such a way about her that you would forget how young she was to be living the way she was, but then she would say something and you would remember. She was the sweet one that held them all together when it all came down to it.
All in all I loved how these characters worked together to tell a story I didn't expect. They all played well off each other and I loved learning how they all got where they were. If you are looking for a book with awesome characters look no further than Kids of Appetite.
Tour Schedule
Week One:
Monday, 9/19: Owl Always Be Reading (Review)
Tuesday, 9/20: Bookish Lifestyle (Top 5 Reasons to Read KoA)
Wednesday, 9/21: Perpetual Page Turner (Interview)
Thursday, 9/22: YA Bibliophile (Review)
Friday, 9/23: Fiction Fare (Favorite KoA Quotes)
Week Two:
Monday, 9/26: Bookiemoji (CYO KoA Group of Misfits)
Tuesday, 9/27: Here's to Happy Endings (Review)
Wednesday, 9/28: Grownup Fangirl (Review + Instagram)
Thursday, 9/29: Book Addict's Guide (Review)
Friday, 9/30: ButterMyBooks (KoA Bookish Scents)
Week Three:
Monday, 10/3: YA Wednesdays (What Makes You a KoA)
Tuesday, 10/4: Lost in Lit (KoA Lookbook/Mood Board)
Wednesday, 10/5: MundieMoms (KoA Playlist)
Thursday, 10/6: Andi's ABCs (Review)
Friday, 10/7: Bookworm Everlasting (Review + Instagram)
Save
Save
Save
Save
Related Posts