I started the Wild Aces series on a whim. For some reason I don't read a ton of military. Honestly I'm not sure why because I love the idea/ concept of them and I have generally loved the ones I have read. Maybe I don't read a lot of them because they don't stand out to me? I'm really not sure.  But when I came across the description for Fly With Me and the library happened to have a copy I figured it was meant to be so I started the series and once again I wasn't disappointed. Did I love all 3 books equally? No. But I really did enjoy all three of them as a whole story putting all the pieces together.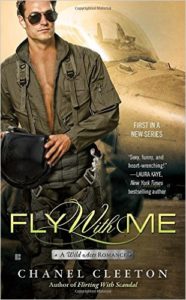 Fly with Me
by
Chanel Cleeton
Published by
Berkley
Published:
May 3rd 2016
Buy on Amazon
Add to Goodreads
From the author of the Capital Confessions Novels comes the first in the steamy Wild Aces Romance series.

U.S. Air Force fighter pilot Noah Miller—call sign Burn—loves nothing more than flying hard and fast. When he meets a gorgeous and sassy woman while partying in Las Vegas, he immediately locks on to her.

Jordan Callahan owns a thriving clothing boutique, but her love life is far less successful. Her luck changes when six feet, two inches of sexy swagger asks her to dance and turns her world upside down.

One scorching weekend becomes an undeniable chemistry that they can't leave in Vegas. But the long distance relationship and their different lives threaten to ground their romance. And when the dangers of Noah's job become all too real, Jordan learns being with a fighter pilot means risking it all for a shot at love…
I am a sucker for a Vegas weekend/one night stand story. I don't know why, but I love them (especially if there is a drunken marriage, not this book, but in general). So Fly With Me was destined to rate high with me and it did. There was just something about Noah and Jordan's story and their chemistry. You felt it right away and it never went away. I think about I loved about them the most was how adult they were about everything. They really talked things through and didn't just fly off the handle. More romance books could use that. But really I loved their story and I loved how it all unfolded in the end.

Into the Blue
by
Chanel Cleeton
Published by
Berkley
Buy on Amazon
Add to Goodreads
Eric Jansen—call sign Thor—loves nothing more than pushing his F-16 to the limit. Returning home to South Carolina after a tragic loss, he hopes to fix the mistake he made long ago, when he chose the Air Force over his fiancée.

Becca Madison isn't quick to welcome Thor back. She can't forget how he shattered her heart. But Thor won't give up once he's set his sights on what he wants—and he wants Becca.

Thor shows Becca that he's no longer the impulsive boy he used to be, and Becca finds herself irresistibly drawn to him. But will Thor be able to walk away from his dream of flying the F-16 for their love or does his heart belong to the sky?
I wasn't as in love with Into the Blue as I was with Fly With Me. Don't get me wrong, I thought it was fun and a good read, but I wasn't as in love with Eric and Becca's story. I loved Eric and his story. I loved how he was affected so much by something that happened in Fly With Me. It was Becca that I struggled with. There was something about her that just didn't make me love her. I did love them together because I do love a good second chance, rekindled relationship story, but something was just a tad off. Still more than just liked it, but I think I just wanted more.

On Broken Wings
by
Chanel Cleeton
Published by
Berkley Books
Buy on Amazon
Add to Goodreads
A year after losing her husband, Joker, the squadron commander of the Wild Aces, Dani Peterson gets an offer from his best friend, Alex "Easy" Rogers, to help fix up her house. Dani accepts, and their friendship grows—along with an undeniable attraction.

Racked by guilt for loving his best friend's widow, Easy's caught between what he wants and can't have. Until one night everything changes, and the woman who's always held his heart ends up in his arms. Yet as Easy leaves for his next deployment, he and Dani are torn between their feelings and their loyalty to Joker's memory.

But when Dani discovers something that sends them both into a spin, the conflicted lovers must overcome the past to navigate a future together…
I received this book for free in exchange for an honest review. This does not affect my opinion of the book or the content of my review.
On Broken Wings was the book I wanted to read most in the Wild Aces series. As soon as I met Easy in Fly With Me and saw the chemistry he had with Dani I wanted to see their story. I knew it wouldn't be simple based on circumstances, but I really wanted to see what was there for them. On Broken Wings did exactly that and more. I was pretty much an emotional wreck the whole book and I have never been happier. Just thinking about Dani and Easy and their relationship makes me smile and breaks my heart. It was everything I wanted their story to be and so much more. Truthfully I don't want to say too much because I don't want to give anything away, but this was by far my favorite of the series.
Related Posts