It's true when they say that reading tastes change. When I started blogging Andi's ABCs was a blog that only covered young adult books. I had lost my love for romance novels and just stuck with what I was currently into. But as time passed, 7 years to be exact, I found myself falling back in love with the romance of a romance book. I actually even spent a whole month in 2019 reading just romance books and it was glorious. Now I spend my time between reading YA (which I still love) and an exciting new romance.
2020, in particular, seems to really have a great group of romance books being released. And since today is Galentine's Day, it seemed fitting that I share with you the 10 romance books I am really excited to read or for you to read since I have read it (I'm looking at you The Happy Ever After Playlist):
Boyfriend Material – Alexis Hall

Luc O'Donnell is tangentially–and reluctantly–famous. His rock star parents split when he was young, and the father he's never met spent the next twenty years cruising in and out of rehab. Now that his dad's making a comeback, Luc's back in the public eye, and one compromising photo is enough to ruin everything.

To clean up his image, Luc has to find a nice, normal relationship…and Oliver Blackwood is as nice and normal as they come. He's a barrister, an ethical vegetarian, and he's never inspired a moment of scandal in his life. In other words: perfect boyfriend material. Unfortunately apart from being gay, single, and really, really in need of a date for a big event, Luc and Oliver have nothing in common. So they strike a deal to be publicity-friendly (fake) boyfriends until the dust has settled. Then they can go their separate ways and pretend it never happened.

But the thing about fake-dating is that it can feel a lot like real-dating. And that's when you get used to someone. Start falling for them. Don't ever want to let them go.

Available July 7, 2020

The Boyfriend Project – Farrah Rochon

USA Today bestselling author Farrah Rochon launches a new series about three young women who become friends when the live Tweeting of a disastrous date leads them to discover they've all been duped by the same man.

Samiah Brooks never thought she would be "that" girl. But a live tweet of a horrific date just revealed the painful truth: she's been catfished by a three-timing jerk of a boyfriend. Suddenly Samiah-along with his two other "girlfriends," London and Taylor-have gone viral online. Now the three new besties are making a pact to spend the next six months investing in themselves. No men, no dating, and no worrying about their relationship status . . .

For once Samiah is putting herself first, and that includes finally developing the app she's always dreamed of creating. Which is the exact moment she meets the deliciously sexy, honey-eyed Daniel Collins at work. What are the chances? When it comes to love, there's no such thing as a coincidence. But is Daniel really boyfriend material or is he maybe just a little too good to be true?

Available June 9, 2020

Conventionally Yours – Annabeth Albert

When two "big name fans" go head-to-head at a convention, love isn't the only thing at stake.

Charming, charismatic, and effortlessly popular, Conrad Stewart seems to have it all…but in reality, he's scrambling to keep his life from tumbling out of control.

Brilliant, guarded, and endlessly driven, Alden Roth may as well be the poster boy for perfection…but even he can't help but feel a little broken inside.

When these mortal enemies are stuck together on a cross-country road trip to the biggest fan convention of their lives, their infamous rivalry takes a backseat as an unexpected connection is forged. Yet each has a reason why they have to win the upcoming Odyssey gaming tournament and neither is willing to let emotion get in the way―even if it means giving up their one chance at something truly magical.

Available June 2, 2020

Something to Talk About – Meryl Wilsner

A showrunner and her assistant give the world something to talk about when they accidentally fuel a ridiculous rumor in this debut romance.

Hollywood powerhouse Jo is photographed making her assistant Emma laugh on the red carpet, and just like that, the tabloids declare them a couple. The so-called scandal couldn't come at a worse time—threatening Emma's promotion and Jo's new movie.

As the gossip spreads, it starts to affect all areas of their lives. Paparazzi are following them outside the office, coworkers are treating them differently, and a "source" is feeding information to the media. But their only comment is "no comment".

With the launch of Jo's film project fast approaching, the two women begin to spend even more time together, getting along famously. Emma seems to have a sixth sense for knowing what Jo needs. And Jo, known for being aloof and outwardly cold, opens up to Emma in a way neither of them expects. They begin to realize the rumor might not be so off base after all…but is acting on the spark between them worth fanning the gossip flames?

Available May 26, 2020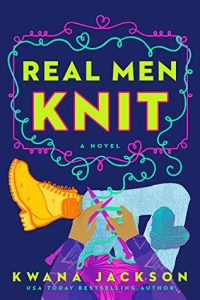 Real Men Knit – Kwana Jackson

When their foster-turned-adoptive mother suddenly dies, four brothers struggle to keep open the doors of her beloved Harlem knitting shop, while dealing with life and love in Harlem.

Jesse Strong is known for two things: his devotion to his adoptive mom, Mama Joy, and his reputation for breaking hearts in Harlem. When Mama Joy unexpectedly passes away, he and his brothers have different plans on what to do with Strong Knits, their neighborhood knitting store: Jesse wants to keep the store open; his brothers want to shut it down.

Jesse makes an impassioned plea to Kerry Fuller, his childhood friend who has had a crush on him her entire life, to help him figure out how to run the business. Kerry agrees to help him reinvent the store and show him the knitty-gritty of the business, but the more time they spend together, the more the chemistry builds. Kerry, knowing Jesse's history, doesn't believe this relationship will exist longer than one can knit one, purl one. But Jesse is determined to prove to her that he can be the man for her—after all, real men knit.

Available May 19, 2020

Beach Read – Emily Henry

A romance writer who no longer believes in love and a literary writer stuck in a rut engage in a summer-long challenge that may just upend everything they believe about happily ever afters.

Augustus Everett is an acclaimed author of literary fiction. January Andrews writes bestselling romance. When she pens a happily ever after, he kills off his entire cast.

They're polar opposites.

In fact, the only thing they have in common is that for the next three months, they're living in neighboring beach houses, broke, and bogged down with writer's block.

Until, one hazy evening, one thing leads to another and they strike a deal designed to force them out of their creative ruts: Augustus will spend the summer writing something happy, and January will pen the next Great American Novel. She'll take him on field trips worthy of any rom-com montage, and he'll take her to interview surviving members of a backwoods death cult (obviously). Everyone will finish a book and no one will fall in love. Really.

Available May 19, 2020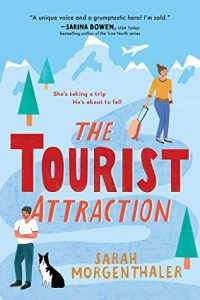 The Tourist Attraction – Sarah Morgenthaler

When Graham Barnett named his diner The Tourist Trap, he meant it as a joke. Now he's stuck slinging reindeer dogs to an endless string of resort visitors who couldn't interest him less. Not even the sweet, enthusiastic tourist in the corner who blushes every time he looks her way…

Two weeks in Alaska isn't just the top item on Zoey Caldwell's bucket list. It's the whole bucket. One look at the mountain town of Moose Springs and she's smitten. But when an act of kindness brings Zoey into Graham's world, she may just find there's more to the man than meets the eye…and more to love in Moose Springs than just the Alaskan wilderness.

Available May 5, 2020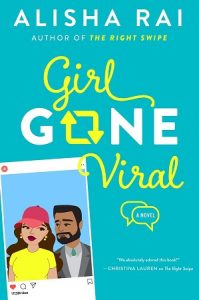 Girl Gone Viral – Alisha Rai

In Alisha Rai's second novel in her Modern Love series, a live-tweet event goes viral for a camera-shy ex-model, shoving her into the spotlight—and into the arms of the bodyguard she'd been pining for.

OMG! Wouldn't it be adorable if he's her soulmate???

I don't see any wedding rings

Breaking: #CafeBae and #CuteCafeGirl went to the bathroom AT THE SAME TIME!!!

One minute, Katrina King's enjoying an innocent conversation with a hot guy at a coffee shop; the next, a stranger has live-tweeted the entire episode with a romantic meet-cute spin and #CafeBae is the new hashtag-du-jour. The problem? Katrina craves a low-profile life, and going viral threatens the peaceful world she's painstakingly built. Besides, #CafeBae isn't the man she's hungry for…

He's got a to die for.

With the internet on the hunt for the identity of #CuteCafeGirl, Jas Singh, bodyguard, friend, and possessor of the most beautiful eyebrows Katrina's ever seen, comes to the rescue and whisks her away to his family's home. Alone in a remote setting with the object of her affections? It's a recipe for romance. But after a long dating dry spell, Katrina isn't sure she can trust her instincts when it comes to love—even if Jas' every look says he wants to be more than just her bodyguard…

Available April 21, 2020

The Happy Ever After Playlist – Abby Jimenez

From the USA Today bestselling author of The Friend Zone comes an adorable and fresh romantic comedy about one trouble-making dog who brings together two perfect strangers.

Two years after losing her fiancé, Sloan Monroe still can't seem to get her life back on track. But one trouble-making pup with a "take me home" look in his eyes is about to change everything. With her new pet by her side, Sloan finally starts to feel more like herself. Then, after weeks of unanswered texts, Tucker's owner reaches out. He's a musician on tour in Australia. And bottom line: He wants Tucker back.

Well, Sloan's not about to give up her dog without a fight. But what if this Jason guy really loves Tucker? As their flirty texts turn into long calls, Sloan can't deny a connection. Jason is hot and nice and funny. There's no telling what could happen when they meet in person. The question is: With his music career on the rise, how long will Jason really stick around? And is it possible for Sloan to survive another heartbreak?

Available April 14, 2020

Paradise Cover – Jenny Holiday

Dr. Nora Walsh has just been dumped in spectacular fashion, making it the perfect time for a major life change. She figures taking over the medical practice in tiny Matchmaker Bay for a couple of years will help her get over her broken heart, and then she can head back to the big city. But when the first man she sees looks like a superhero god, she wonders if maybe there's something to small-town living after all.

Jake Ramsey also has a broken heart — one he never expects to heal. He doesn't need people anyway and is content hiding out in his secluded cottage on the beach. But after helping Nora with a medical emergency, he finds himself opening up to the witty, warmhearted doctor. Soon the local matchmakers are working overtime to pair them off, and Jake begins to wonder if his campaign to get Nora to stay is for the town or because he can't bear the thought of her leaving.

Available July 28, 2020

*click on the cover to pre-order from Amazon or to learn more
Real Men Knit and Beach Read are on my TBR list for February and I'm really excited to devour them!
Do you have any of these on your TBR? Which one are you the most excited for?
Related Posts