In 2018 I had the idea to have readers and friends read my favorite books from years past. I had 20+ amazing people sign up and read some of my all-time favorite books. They took the time out of their busy lives and reading schedules and read books I love and shared what they thought on my blog. It was a lot of fun and I got to see some new takes on old favorites. It actually was a fun experience. If you are interested in the reviews HERE.
This year I decided to give back in a way and asked everyone that signed up to tell me their favorite book (that I have not read) because in 2019 it is time to do NEW TO ME.
~~~~~~~~~~~~~~~~~~~~~~~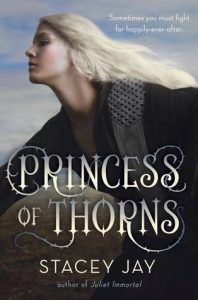 Princess of Thorns
by
Stacey Jay
Published by
Delacorte Press
Published:
December 9, 2014
Buy on Amazon
Add to Goodreads
Game of Thrones meets the Grimm's fairy tales in this twisted, fast-paced romantic fantasy-adventure about Sleeping Beauty's daughter, a warrior princess who must fight to reclaim her throne.

Though she looks like a mere mortal, Princess Aurora is a fairy blessed with enhanced strength, bravery, and mercy yet cursed to destroy the free will of any male who kisses her. Disguised as a boy, she enlists the help of the handsome but also cursed Prince Niklaas to fight legions of evil and free her brother from the ogre queen who stole Aurora's throne ten years ago.

Will Aurora triumph over evil and reach her brother before it's too late? Can Aurora and Niklaas break the curses that will otherwise forever keep them from finding their one true love?
Stacey Jay's book, Princess of Thorns came out December 9, 2014. How long have I owned it? It has been on my shelf since December 30, 2014. Yup, I was so excited for this book I had it mere weeks after it's release. So to say I was happy to see it as a New to Me suggestion and then a New to Me read I was thrilled. It was about time I read this backlist book I ran out and bought. Sadly though I didn't end up loving it like I thought I would. Don't get me wrong, it was good, but I really struggled with a lot of it which outweighed the good for me.
The story is about Aurora, a princess without a throne. She is on a quest to save her brother and the throne that rightfully belongs to her family. But in order to stay hidden and safe, she has to hide in plain sight as a boy. While on her journey she meets Prince Niklaas, a prince with a secret of his own. With an unlikely ally at their side, these two make a dangerous trek in order to save the kingdom, themselves, and maybe find love.
In theory, I should have loved this. A hidden identity book? A book with danger and intrigue and magic? There for it. Sadly the first 50% of the book was really hard to get into. It dragged a lot and the pacing was a little slow. And as much as I loved Aurora and Niklaas' connection, it took a really long time for me to feel it. Truthfully I think that is really where my struggle was. I was missing something in those first 200 pages and I don't know what it was. And then after all that build up, I didn't feel there were enough pages to deal with everything that was left so the end felt a little rushed.
Don't get me wrong, I did enjoy the book. But I just didn't love it. By the end, I was reading like crazy to find out what happened, but I just don't think there was enough for me to be satisfied. There are plenty of people that loved it though and you may be one of those people so don't rule it out because I was just so so on it.
~~~~~~~~~~~~
And there you have it, June's book selection for New to Me. I wasn't sure I would finish in time but I made it work!
Looking for more books with a character in disguise? Check out this list on Goodreads.
Related Posts