It's check-in time for my Netgalley update. Back in January I celebrated my 7 year blog anniversary and introduced a new individual challenge I am taking part in. I had picked 25 books on the Netgalley queue that I planned to read to help my Netgalley feedback ratio. It isn't as easy as I expected.
I did make a little bit of progress on my Netgalley Bingo Card. When I checked-in in February I had read 3. This check-in I have added two more spots. Unfortunately one was a DNF, but I tried and that book just wasn't for me. I am currently reading Rayne and Delilah's Midnite Matinee and I have two others from the Bingo card on my March TBR. I'm making some progress but it is slow going.
What has been even harder is getting that Netgalley ratio percentage down. The struggle is when books I have on my TBR show up available for me to download. I was good from February 11th to March 11th (what the information below represents) but it wasn't very easy. Some books I have to talk myself out of requesting. On the plus I have some books that I need to post reviews for that I have read already so that will help. And I did make some progress getting back up to where I was ratio wise so there is that. But I'm still aiming for the 70%.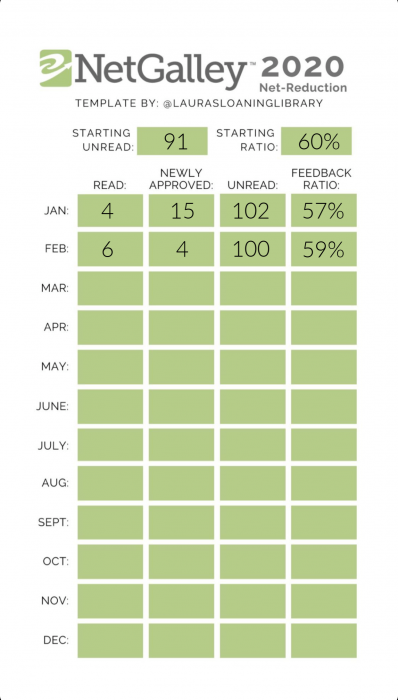 Do you find yourself acquiring more books then you read? Share your experience in the comments. 
Related Posts