Here are a few brief thoughts on some Netgalley reads: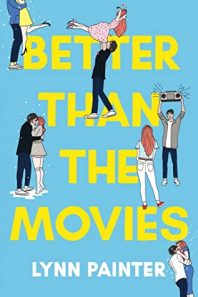 Better Than the Movies
by
Lynn Painter
Published by
Simon & Schuster Books for Young Readers
Published:
May 4, 2021
Buy on Amazon
Add to Goodreads
In this rom-com about rom-coms, in the spirit of Kasie West and Jenn Bennett, a hopeless romantic teen attempts to secure a happily-ever-after moment with her forever crush, but finds herself reluctantly drawn to the boy next door.

Perpetual daydreamer Liz Buxbaum gave her heart to Michael a long time ago. But her cool, aloof forever crush never really saw her before he moved away. Now that he's back in town, Liz will do whatever it takes to get on his radar—and maybe snag him as a prom date—even befriend Wes Bennet.

The annoyingly attractive next-door neighbor might seem like a prime candidate for romantic comedy fantasies, but Wes has only been a pain in Liz's butt since they were kids. Pranks involving frogs and decapitated lawn gnomes do not a potential boyfriend make. Yet, somehow, Wes and Michael are hitting it off, which means Wes is Liz's in.

But as Liz and Wes scheme to get Liz noticed by Michael so she can have her magical prom moment, she's shocked to discover that she likes being around Wes. And as they continue to grow closer, she must reexamine everything she thought she knew about love—and rethink her own ideas of what Happily Ever After should look like.
I received this book for free in exchange for an honest review. This does not affect my opinion of the book or the content of my review.
Better Than the Movies was pretty much the book I expected when I started reading it. It was the story of a girl that loves rom-coms and wants her life to play out like one. Ever since her mother passed away she held on to the romantic theory that this was possible and she refused to let it go. And I understood that to a point but it slo pushed the boundaries a little for me because Liz wasn't always easy to like or connect with. Everything to her was black and white so she refused to see what Wes, the boy next door and also right out of a romantic comedy, was trying to show her. She was so wrapped up in her fantasy it made her hard to root for. But with that said I should also say  I really loved the last 40/45% of the book. I feel like the plot and the characters hit their stride at that point and it had me wishing the beginning was as good as the end. But all in all an enjoyable read for a rom-com lover.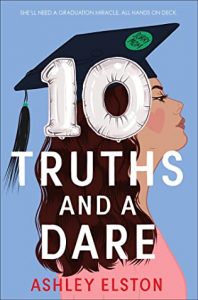 10 Truths and a Dare
by
Ashley Elston
Published by
Disney-Hyperion
Published:
May 4, 2021
Buy on Amazon
Add to Goodreads
It's Senior Week, that magical in-between time after classes have ended but before graduation, chock-full of gimmicky theme parties, last-minute bonding, and family traditions. Olivia couldn't be more ready. Class salutatorian and confident in her future at LSU, she's poised to sail through to the next phase of her life.

But when the tiny hiccup of an unsigned off-campus P.E. form puts Olivia in danger of not graduating at all, she has one week to set things straight without tipping off her very big and very nosy extended family. Volunteering to help at a local golf tournament should do it, but since Olivia's mom equipped her phone with a tracking app, there'll be no hiding the fact that she's at the golf course instead of all the graduation parties happening at the same time. Unless, that is, she can convince the Fab Four--her ride-or-die cousins and best friends Sophie, Charlie, and Wes--to trade phones with her as they go through the motions of playing Olivia for the week.

Sure, certain members of the golf team are none too pleased with Olivia's sudden "passion" for the game. And sure, a very cute, very off-limits boy keeps popping up in Olivia's orbit. But she is focused! She has a schedule and a plan! Nothing can possibly go wrong . . . right?
I received this book for free in exchange for an honest review. This does not affect my opinion of the book or the content of my review.
After I finished 10 Blind Dates and heard about a companion I was really, really excited. I knew I was going to be getting another great gem by an author I was loving. The thing is, I didn't mean to read 10 Truths and a Dare so fast. When I opened the book I had all intentions of enjoying it slowly because I knew I was reading it early and it would be a long time before I got another book by this author. But then my love of this crazy family was reignited and I couldn't help myself. 24 hours later I was done and left with wanting more. Because the best part of these Ashley Elston books, for me, is the Messina family. When Olivia is having a hard time getting a credit she needs to graduate Sophie and Charlie are there to help. They have her back and do what they can so she can do what she needs to. Does everything always go as planned? Not entirely, but that is what family is for. They are willing to look silly to try and help you out. And that is the beauty of 10 Truths and a Dare and the first book, 10 Blind Dates and that is why  I truly hope we get more books about these crazy cast of characters. This is definitely a book you want on your TBR.
Related Posts