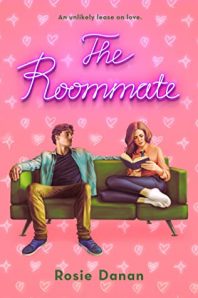 The Roommate
by
Rosie Danan
Series:
The Roommate #1
Published by
Berkley
Published:
September 15, 2020
Buy on Amazon
Add to Goodreads
House Rules:Do your own dishesKnock before entering the bathroomNever look up your roommate online

The Wheatons are infamous among the east coast elite for their lack of impulse control, except for their daughter Clara. She's the consummate socialite: over-achieving, well-mannered, predictable. But every Wheaton has their weakness. When Clara's childhood crush invites her to move cross-country, the offer is too much to resist. Unfortunately, it's also too good to be true.

After a bait-and-switch, Clara finds herself sharing a lease with a charming stranger. Josh might be a bit too perceptive—not to mention handsome—for comfort, but there's a good chance he and Clara could have survived sharing a summer sublet if she hadn't looked him up on the Internet...

Once she learns how Josh has made a name for himself, Clara realizes living with him might make her the Wheaton's most scandalous story yet. His professional prowess inspires her to take tackling the stigma against female desire into her own hands. They may not agree on much, but Josh and Clara both believe women deserve better sex. What they decide to do about it will change both of their lives, and if they're lucky, they'll help everyone else get lucky too.
I received this book for free in exchange for an honest review. This does not affect my opinion of the book or the content of my review.
One of my favorite romance troupes is forced proximity. I love the uncomfortable and awkward situations couples get themselves into when they are forced to share a space. So when I read the description for The Roommate and saw it was an unexpected roommate situation I knew I was in for a good journey. Unexpected roommate is like top tier forced proximity and I am always 100% here for it. And I can happily report that The Roommate 100% didn't let me down. It checked all the great troupe marks and then some.
The Roommate starts with Clara Wheaton, an east coast socialite, moving across the country to live with her childhood crush. But when she arrives she finds out that he isn't going to be there this summer and has instead rented his room to Josh.  Now Clara finds her herself living with a stranger in a place she has never been.  The thing is, she finds herself liking Josh the more she gets to know him. But as her and Josh get closer Clara fears she might be heading towards something she has stayed away from her whole life…a scandal.
First and foremost Josh and Clara had super hot chemistry. It jumped off the page in whatever scene they were in. Even if it was just a conversation I could feel they need between them. Second I love that Josh was never ashamed of his profession and either was Naomi. They owned what they did for a living and didn't care what people thought. I also liked Clara reaction to finding out Josh's profession. As a reader I originally thought she would be completely horrified, but she really took it in stride and wasn't stuck up about it at all. I think that is what endeared me to both the characters and the book.
In the end The Roommate was exactly what I wanted it to me. It was fun and sweet and sexy. Clara and Josh were the perfect unexpected roommates and I couldn't do anything else but fall in love with them. Definitely one you should have on your TBR. Don't miss this sexy romance.
Related Posts