The Kiss Quotient
by
Helen Hoang
Series:
The Kiss Quotient #1
Published by
Berkley
Published:
June 5, 2018
Buy on Amazon
Add to Goodreads
A heartwarming and refreshing debut novel that proves one thing: there's not enough data in the world to predict what will make your heart tick.

Stella Lane thinks math is the only thing that unites the universe. She comes up with algorithms to predict customer purchases--a job that has given her more money than she knows what to do with, and way less experience in the dating department than the average thirty-year-old.

It doesn't help that Stella has Asperger's and French kissing reminds her of a shark getting its teeth cleaned by pilot fish. Her conclusion: she needs lots of practice--with a professional. Which is why she hires escort Michael Phan. The Vietnamese and Swedish stunner can't afford to turn down Stella's offer, and agrees to help her check off all the boxes on her lesson plan--from foreplay to more-than-missionary position...

Before long, Stella not only learns to appreciate his kisses, but to crave all the other things he's making her feel. Soon, their no-nonsense partnership starts making a strange kind of sense. And the pattern that emerges will convince Stella that love is the best kind of logic...
I received this book for free in exchange for an honest review. This does not affect my opinion of the book or the content of my review.
Holy. Wow. What a book!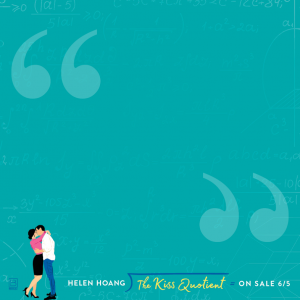 That was my first thought after I finished The Kiss Quotient.
I had seen a lot of people talking about The Kiss Quotient and I admit that it made me a little scared to read it. Hyped up books can sometimes go horribly wrong. You get your hopes up and expect something earth shattering only to be let down. I have been burned before and super sad about it. But The Kiss Quotient was not one of those burns. It was fun, and real, and filled with smoking hot chemistry.
At first glance, Stella and Michael are complete opposites. Stella is a serious and quirky character that has Asperger's, while Michael is this cool, suave guy that happens to be an escort. On paper there is nothing about these two that should fit. They live in different worlds and lead very different lives. But in the end that is exactly what made them work. When Stella hires Michael all their boundaries are pushed and they end up finding a comfort with one another they never expected. Their differences end up bringing out the best in each of them and making them start to question the rules they have been living by. Watching them step out of their respective comfort zones and form a physical and emotional bound is a pure thing of beauty. Meeting one another changes them to the core and that is what I found so special and unique about The Kiss Quotient.
Miranda Kenneally said it was a reverse Pretty Woman and she was so spot on with that description and I'm mad at myself for not even seeing it because the obvious aside (Stella hiring an escort), it had the same feels as that classic movie and made you just root for this two to be together. Honestly it was my favorite romance read of the year and I think it will be yours too. Go and check it out!
Buy links: Amazon, Kindle, Barnes & Noble, Nook, Books a Million, Indiebound, iBooks, Kobo, Google Play
Have you read The Kiss Quotient yet? Is it on your TBR?
Related Posts