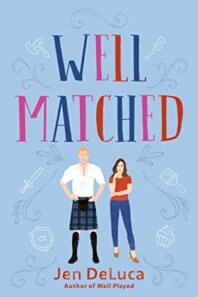 Well Matched
by
Jen DeLuca
Series:
Well Met #3
Published by
Berkley
Published:
October 19, 2021
Buy on Amazon
Add to Goodreads
ingle mother April Parker has lived in Willow Creek for twelve years with a wall around her heart. On the verge of being an empty nester, she's decided to move on from her quaint little town, and asks her friend Mitch for his help with some home improvement projects to get her house ready to sell.

Mitch Malone is known for being the life of every party, but mostly for the attire he wears to the local Renaissance Faire -- a kilt (and not much else) that shows off his muscled form to perfection. While he agrees to help April, he needs a favor too: she'll pretend to be his girlfriend at an upcoming family dinner, so that he can avoid the lectures about settling down and having a more "serious" career than high school coach and gym teacher. April reluctantly agrees, but when dinner turns into a weekend trip, it becomes hard to tell what's real and what's been just for show. But when the weekend ends, so must their fake relationship.

As summer begins, Faire returns to Willow Creek, and April volunteers for the first time. When Mitch's family shows up unexpectedly, April pretends to be Mitch's girlfriend again... something that doesn't feel so fake anymore. Despite their obvious connection, April insists they've just been putting on an act. But when there's the chance for something real, she has to decide whether to change her plans -- and open her heart -- for the kilt-wearing hunk who might just be the love of her life.

An accidentally in-love rom-com filled with Renaissance Faire flower crowns, kilts, corsets, and sword fights.
I received this book for free in exchange for an honest review. This does not affect my opinion of the book or the content of my review.
When I started Jen DeLuca's Well Met series in 2019 as a buddy read with a friend I wasn't sure how I felt about it. Renaissance Faires aren't really my thing but the book, Well Met, sounded cute enough, and it was, but it wasn't a favorite. Some of it didn't work for me. But I did enjoy it enough to want to read book 2, Well Played, and I ended up liking book 2 a whole lot more. So when Well Matched was coming I was excited to see how I would feel about the last companion. Happy to say, it was the best of the series and got all the stars!
Well Matched is the story of April Parker, Willow Creek's resident single mother, and Mitch Malone, the town's resident life of the party. April has spent years in Willow Creek closing off her heart to the people that live in the town. She knew the second her daughter graduated she was moving so she never got close to anyone. But then Mitch Malone needs her help. He needs her to pretend to be his girlfriend at his family reunion so his family will lay off of him. April agrees and soon finds some of those walls she built coming down. What starts out as a weekend to help Mitch becomes a lot more when he starts to help her fix up her place. And when his family unexpectedly shows up at the Renaissance Faire April once again finds herself in a position she never expected, at Mitch's side and contemplating if leaving is really what she wants to do.
Well Matched felt different for me. From the get go I felt a connection to April. I grew up as the only child of a single mother so I understood the relationship between April and her daughter. April handled everything she was feeling in regards to her ex and her daughter with grace and class even when she wanted to rip off her ex husbands face. On top of that I loved the relationship April and Mitch had. There was nothing conventional about them or anything that made them seem like they would work. But man did the work as a pair. They had amazing chemistry and an even stronger friendship which I think is what helped lead to that chemistry. They each had walls up, April's more prevalent than Mitch's, but they were there. And slowly they both tore them down creating something magical between them.
In the end Well Matched was EVERYTHING I wanted from this series. It brought so much joy and heart into my life and I honestly never wanted it to end. It was truly the perfect way to end the series and I highly recommend getting a copy today!
Related Posts