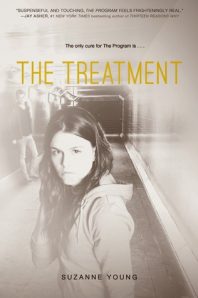 The Treatment
Series:
The Program #2
Published by
Simon Pulse
Published:
April 29th 2014
Buy on Amazon
Add to Goodreads
Can Sloane and James survive the lies and secrets surrounding them, or will The Program claim them in the end? Find out in this sequel to The Program, which Publishers Weekly called "chilling and suspenseful."

How do you stop an epidemic?

Sloane and James are on the run after barely surviving the suicide epidemic and The Program. But they're not out of danger. Huge pieces of their memories are still missing, and although Sloane and James have found their way back to each other, The Program isn't ready to let them go.

Escaping with a group of troubled rebels, Sloane and James will have to figure out who they can trust, and how to take down The Program. But for as far as they've come, there's still a lot Sloane and James can't remember. The key to unlocking their past lies with the Treatment—a pill that can bring back forgotten memories, but at a high cost. And there's only one dose.

Ultimately when the stakes are at their highest, can Sloane and James survive the many lies and secrets surrounding them, or will The Program claim them in the end?
I received this book for free in exchange for an honest review. This does not affect my opinion of the book or the content of my review.

First let me start by saying that The Program(review) was one of my favorite reads of 2013. And I know, this isn't a huge deal since I had a bunch of books that I call my favorites. But it is a big deal. Because you know what? I almost never read The Program which would have been a travesty because then I never would have read The Treatment and I would never have gotten to know these amazing characters and the amazing story that Suzanne Young imagined for us. I would have missed out on a fabulous duology and that would have been a shame.
The Treatment picks up like immediately after The Program ends. Sloane and James are on the run know that they know The Program is after them. They did something that few others have done and maintained their connection to one another even after being "cured". With the help of Sloane's "friend" from inside The Program, Michael Realm, the two runaways meet up with other rebels on the run and in hiding. But even with allies Sloane and James don't know who to trust. And if the truth got out that the have The Treatment, more could be at stake than just their memories. Navigating a world and people they aren't familiar with James and Sloane have to figure out who to trust, what to do and the most important thing of all, are the risks of taking The Treatment worth it in the end.
Seriously, I don't think I can accurately put into words how much I enjoyed the ending of this series. A lot happened in The Treatment, but it was all stuff that needed to happen. I fell in love with Sloane and James even more than I already was. Did I like the addition of Dallas(I really wanted to toss her over a bridge a couple of times) and the use of Realm(he seriously ruined everything) and the long absence of James(he was missing for so so long that I actually know what Sloane was feeling!)? No. But I loved the story that all of those parts told. Without all of that stuff the pieces wouldn't have connected and the story would have been boring. Because really, if it gets me that worked up, it is doing its job. I loved how fast paced it was and the back story to beginning of The Program. And I liked the unexpected help that Sloane and James got when they least expected it and when they needed it most.
But what I really loved was the concept. It was amazing in The Program and even more so in The Treatment. You see, I'm not convinced that the suicide epidemic was actually an epidemic. I mentioned in my review of The Program that to me the story was more "what came first the chicken or the egg" and I still got that feeling from The Treatment, maybe more even. The fact that some scientist made a pill that would cure what The Program cured also made me question if the epidemic was man made by creating panic with teens. It's a thought I can't really shake when I think or talk about this series.
Basically, The Treatment lived up to my expectations. It wasn't easy based alone on my feelings for The Program but it succeeded. Young wrote a book that tied all the ends up in a way that made sense and that worked. It even left me wanting a 3rd book, but that's a story for another day. The Treatment was thought provoking and a great character story. It made you wonder what you would do if you had the opportunity to get your memories back after they were taken from you and how you would feel if you were the only one that could remember. I truly loved it and I thank you Ms. Young for writing an extraordinary tale that was like nothing I've read before. I look forward to reading more from you.
My review of The Program is HERE
Related Posts