Welcome to New to You!
This idea came along last year when I was supporting Lauren Miller's newest book All Things New and I asked Kelsey to read and review Parallel, a book I have read more than once. I didn't really get it going until December when I offered people the chance to sign up to read and review a book that has been a favorite of mine that they have never read. I got a great response and I'm happy to tell you (minus January) you will see a New to You post twice a month.
~~~~~~~~~~~~~~~~~~~~~~
Next up for New to You is Michelle from Pink Polka Dot Books. Michelle and I have always shared a love for a certain kind of book. It goes back to 2014 when we met in line for a signing of Tease by Amanda Maciel at BEA. When she signed up and wanted to read Breathe, Annie, Breathe, I knew it would be a good fit for her. Let's see what Michelle had to say about it.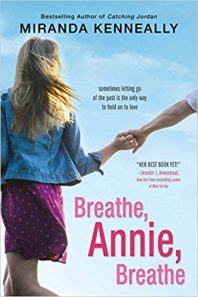 Breathe, Annie, Breathe
by
Miranda Kenneally
Published by
Sourcebooks Fire
Published:
April 7, 2015
Buy on Amazon
Add to Goodreads
From the bestselling author of Catching Jordan comes a contemporary YA you won't forget.

The finish line is only the beginning.…

Annie hates running. No matter how far she jogs, she can't escape the guilt that if she hadn't broken up with Kyle, he might still be alive. So to honor his memory, she starts preparing for the marathon he intended to race.

But the training is even more grueling than Annie could have imagined. Despite her coaching, she's at war with her body, her mind-and her heart. With every mile that athletic Jeremiah cheers her on, she grows more conflicted. She wants to run into his arms...and sprint in the opposite direction. For Annie, opening up to love again may be even more of a challenge than crossing the finish line.
When I spied this book in Andi's New To You options, I knew I had to choose it.  It's been sitting on my shelf since one of my first BEAs and I've been meaning to read a book in the Hundred Oaks series since forevs.
I feel like this may have been the perfect book for me to start with because the subject-matter is a lot more serious and lot less romancey– although, the romance is DEFINITELY there.  I was really surprised how much I enjoyed reading about running, considering whenever I have to run in real life all I can think about is the intense pain all over my body, but I liked seeing how Annie progressed.
We follow Annie's training schedule in the 6 months leading up to her first marathon.  Annie isn't a runner, so having only 6 months to train to run a full marathon (26.something miles) is tough stuff.  I loved reading about her training and learning things about running that I never knew (like eating fish is good for your knees and weird things about Vaseline).  I actually loved being in her head, which I usually do not like.  When you run, you have A LOT of time to think and for the most part, I liked Annie's thoughts.
Annie is running the marathon in honor of her boyfriend who passed away before he could run in one.  It gets complicated when her trainer's brother enters the picture and gives her all kinds of crushworthy-feels.  I could see why she didn't feel great about getting with a guy who is involved with something that connects to her boyfriend's memory.  It was awkward as all hell.
The thing about Jeremiah (the brother) is that he's an adrenaline junkie, constantly seeking the next high, putting himself in all kinds of unnecessary danger.  I felt like Annie was right to be wary– how could she go through another accidental death of a love interest???
What I liked about the Jeremiah situation: He sounded hot as hell.  Boys that don't have fear are hot– they just are.  I liked their chemistry together, and I liked that hooking up wasn't the biggest deal in the world to this author.  I thought Jeremiah might have been the most patient college kid on the planet and I respected that.
What I was MEH about the Jeremiah situation: I didn't care for Jeremiah using Annie as a way to get his new high.  What's going to happen when that newness wears off??  It will wear off Jeremiah, I promise you.  Also, why was every guy in love with this Annie chick??  She seemed like an everyday girl, I didn't think she needed to be HOTTEST GIRL EVER for me to believe Jeremiah would be interested in her.
I will definitely be reading more Miranda Kenneally books!!  I really enjoyed the flow of this book. reading about marathon training, going to college, and awesome families.  Thanks to Andi for getting me to read this backlist book that I should've read years ago!!
~~~~~~~~~~~~
Thanks Michelle for signing up for New to You! I knew Annie would be a good fit for you!
My Breathe, Annie, Breathe review.
Have you read any books by Miranda Kenneally? If so which ones?

Related Posts