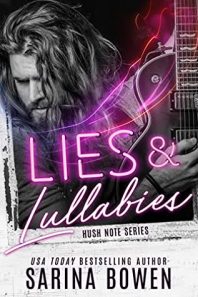 Lies & Lullabies
by
Sarina Bowen
Series:
Hush Note #1
Published by
Tuxbury Publishing LLC
Published:
September 22, 2020
Buy on Amazon
Add to Goodreads
Once upon a time, he gave me a summer of friendship, followed by one perfect night. We shared a lot during our short time together. But he skipped a few crucial details.

I didn't know he was a rock star.

I didn't know his real name.

Neither of us knew I'd get pregnant.

And I sure never expected to see him again.

Five years later, his tour bus pulls up in Nest Lake, Maine. My little world is about to be shattered by loud music and the pounding of my own foolish heart.
I received this book for free in exchange for an honest review. This does not affect my opinion of the book or the content of my review.
I have been a fan of Sarina Bowen and her sports romances for a while. She knows how to write a good hockey player and owner for sure. So I was really excited when I heard about thus Hush Note series. Not only is the series being written by a variety of authors, but it is something I was happy to see Sarina tackle, a rock star romance. And Lies & Lullabies is just that, a rock star romance. It was fun and charming and entertaining.
Lies and Lullabies is the story of Kira and Jonas. The two of them spent a summer together in Kira's small hometown in Maine. Both were there searching for some peace in their lives, for two different reasons, and ended up finding something they didn't expect…each other. Fast forward 5 years. Jonas is the lead singer of the super popular band Hush Notes and Kira is a mother is a small child, one that Jonas doesn't know exists or that he is the father of. Both suddenly in the same place again Kira and Jonas have to deal with the lies they have told each other and the small child that represents the summer neither of them could forget.
Simply put, Lies and Lullabies was a really entertaining read. Kira and Jonas had a lot of chemistry in both flashbacks and in the present. As a reader I could see immediately that they belonged together and I really enjoy seeing that kind of chemistry. They played off of one another really well and I liked that they both recognized their faults. Plus their daughter was just too cute. I personally could have read a whole book about her.
Lies and Lullabies is a quick read that will keep you turning the page. There was one part that I didn't love that I felt wasn't needed for the story, but all in all it was a good start to a new series that should be a fun ride. Definitely take a look at it.
Related Posts