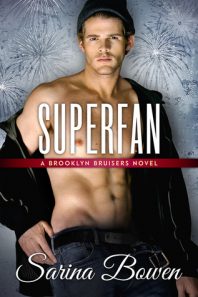 Superfan
by
Sarina Bowen
Series:
Brooklyn/Brooklyn Bruisers #6
Published by
Tuxbury Publishing LLC
Published:
June 25, 2019
Buy on Amazon
Add to Goodreads
Sometimes lady luck shakes your hand, and sometimes she smacks your face. Sometimes she does both on the same day.

Three years ago I met the most amazing girl in the world. We were both down on our luck. Then I got that call—the one that tells you to get your buns on a plane to go meet your destiny.

But the girl was left behind. I didn't have her phone number, and she didn't know my real name.

While I became a professional hockey player, she became a superstar, with platinum records and legions of fans. And a slick, music producer boyfriend who treated her badly.

But fate wasn't done with us yet. When Delilah turns up at a hockey game, I can't resist making contact. The internet swoons when I ask her out on a date.

She might not remember me. But her jerkface ex does. He'll do anything to keep us apart.

Good thing athletes never give up. This time I'm playing for keeps.

More information at SarinaBowen.com
I received this book for free in exchange for an honest review. This does not affect my opinion of the book or the content of my review.
It is no secret I'm a huge fan of Sarina Bowen. As soon as her books are up for preorder I have it purchased. Especially if it is one of the guys from the Brooklyn Bruiser hockey team. So when I heard about Silas's book it was a natural auto-buy. And man was I not disappointed. Silas and Delilah's story was what I was hoping for. It was filled with oodles of chemistry and heart and I was one happy reader.
Superfan is the story of Silas, the back-up goalie for the Brooklyn Bruisers. Silas is having the time of his career playing for the Bruisers after his first time playing pro was a bust, but something is missing for him, and it is Delilah, the girl that got away 3 years ago. When Silas ends up tweeting her while she is at a hockey game for the Bruiser's rival team, the internet takes notice and soon a date is set up. But nothing is ever easy for Silas, especially when Delilah doesn't immediately remember him, but her ex certainly does and will stop at nothing to make sure this reunion doesn't happen.
What I loved about Superfan most was the chemistry between Delilah and Silas. Right from the start I noticed it and was sucked in. They both came from different worlds but they had the same drive and the same heart and I loved that. Silas was such a nice guy and he had felt terrible for 3 years for how things went down and made things right when the timing was right for both of them. I loved how they worked together to figure out a way to make things work for them when they each had two different careers on two different coasts. It wasn't always easy, but it was what worked for them.
If I'm honest though, my favorite part was getting to see my guy Nate again. I missed him in Overnight Sensation so it was nice to be able to 'catch-up' and see how things were for him. Spoiler alert: Things were really good for Nate. 🙂
All in all, I had a fun time reading Superfan. There was some drama, but it didn't outweigh the good stuff that made you smile and feel mushy in the middle. It was a welcome addition to this series filled with companion books and one I would recommend you read.
Related Posts