I have been a fan of Courtney C. Stevens since I read her first book Faking Normal. She has a way about her writing that just pulls me in. And she writes the CUTEST boys and the best friendships. Anyway as much as I loved Faking Normal I loved The Lies About Truth 100 times more. I seriously can't say enough good things about this book. I will review it in the future but today we have Courtney on the blog answering a few of my questions about the book.
Make sure you check in after the Q&A as we are giving away 3 finished copies of The Lies About Truth and you don't want to miss it.
Q & A with Courtney C. Stevens
First I have to tell you how much I loved loved loved The Lies About Truth. It was this perfect story wrapped up in 330ish pages. So thank you for that. On to the questions.
1) Both your debut Faking Normal and The Lies About Truth deal with some really heavy topics like rape and death/grief, respectively. As an author how do you put yourself into that mind frame and craft a story that is balanced between the serious and romantic and not completely depressing?
When I'm at schools and I read from either Faking Normal or The Lies About Truth I usually say, "As you can tell, I don't write about puppy dogs and rainbows." They all laugh. And as we continue that dialogue, there is an understanding that I write about these things because they are living them. Because I once lived in that same head space. Offering a balance of "life is hard" and "life is still rewarding" and "life has love in the middle of pain" are truths I believe I need now and I needed in high school.
As far as keeping it from being too depressing, that's where my editor and critique partners help me reign things in. I write everything raw, and then go back and do humor and pity checks.
2)Friendship is a huge part of The Lies About Truth, which I personally love to see in YA books. Friendships are complicated and real and for Sadie that is no different. Why was friendship such an important part of this story?
When I look back at high school, friendship was THE thing. Did I date? Absolutely. Did I obsess over boys? Absolutely. Did I worry about my grades? Absolutely. But I did those things with my friends on the couch over chips and salsa. My day-to-day life was lived out with friends instead of romantic hopefuls. They were the people who made my life and broke my heart and showed up with life sucked the hardest. With that history in mind, I always try to express complicated and rewarding friendships in my work, because those are the people I do life with.
3) And finally I can't not ask about Max. You seem to have a knack for writing the most adorable boys for a story. How did Max come about and why is it so important that this main female characters have the good guy in the corner?
Thank you. I rather love Max myself. I love writing a good guy, because I believe they are out there. But … I think it's important to note that he could have been a girl too. I try to write secondary main characters who see beyond the layers/walls a main character builds to disguise herself. So far, in both Faking Normal and The Lies About Truth, those happen to have been boys. But I never want a girl to read my work and think she just has to have a guy in her life to be whole. She needs a friend in her life. Love in her life. Acceptance in her life. I deeply believe that people need people. Trust and authenticity within a community is a powerful, life-altering thing. That has nothing to do with gender or romantic love (although those can be wonderful additions.) Alexi and Sadie needed someone who saw them, and the people who saw them happen to be boys. Good boys, who are looking to add to the world rather than take.
When I set out to build Max as a gift for Sadie, I thought about who she needed to help her transform, and who I've met in my life that comforted me when I felt the most broken. The boys I write always come out of the kindness I've met in friends and relationships.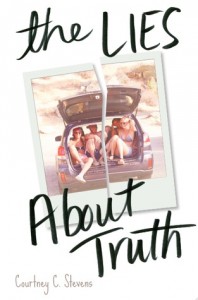 The Lies About Truth
by
Courtney C. Stevens
Published by
HarperTeen
Published:
November 3rd 2015
Buy on Amazon
Add to Goodreads
Sadie Kingston, is a girl living in the aftermath. A year after surviving a car accident that killed her friend Trent and left her body and face scarred, she can't move forward. The only person who seems to understand her is Trent's brother, Max.

As Sadie begins to fall for Max, she's unsure if she is truly healed enough to be with him — even if Max is able to look at her scars and not shy away. But when the truth about the accident and subsequent events comes to light, Sadie has to decide if she can embrace the future or if she'll always be trapped in the past.
LINKS: Website | Twitter | Facebook | Tumblr
Tour Schedule:
Week 1:
Nov. 20: Andi's ABCs – Q&A

Related Posts