Welcome to New to You!
This idea came along last year when I was supporting Lauren Miller's newest book All Things New and I asked Kelsey to read and review Parallel, a book I have read more than once. I didn't really get it going until December when I offered people the chance to sign up to read and review a book that has been a favorite of mine that they have never read. I got a great response and I'm happy to tell you (minus January) you will see a New to You post twice a month.
~~~~~~~~~~~~~~~~~~~~~~
Next up for New to You is April from Between the Pages. I feel like I have been suggesting books to April for ages so it was great when she signed up and I had two more to choose from to have her read. It was a tough call but in the end I thought The Lies About Truth would be a good fit for her. Let's see what she thought: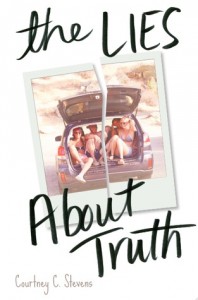 The Lies About Truth
by
Courtney C. Stevens
Published by
HarperTeen
Published:
June 6, 2017
Buy on Amazon
Add to Goodreads
This story from Courtney Stevens about hope and courage and the struggle to overcome the pain of loss.

Sadie Kingston is living in the aftermath. A year after surviving a car accident that killed her friend Trent and left her body and face scarred, she can't move forward. The only person who seems to understand her is Trent's brother, Max.

As Sadie begins to fall for Max, she's unsure if she is truly healed enough to be with him. But Max looks at her scars and doesn't shy away. And Max knows about the list she writes in the sand at the beach every night, the list of things that Sadie knows she must accomplish before she can move on from the accident. And while he can help her with number six (kiss someone without flinching), she knows she's on her own with number three (forgive Gina and Gray) and the rest of the seemingly impossible tasks that must be made possible before she can live in the now again.
So this was a book that I was interested in reading, but kept putting off. I'm not sure why I did, but I did. So when I saw Andi's New To You feature come out, I was intrigued and decided to sign up, knowing whatever book Andi assigned to me was going to be worth reading. Andi has yet to lead me astray when I ask for book recommendations. So I read it, finally, and I'm glad I did.This is the story of Sadie, a teenage girls whose life changed due to a car accident that took the life of one of her friends, and changed the dynamic of the rest of her friendships. This story was very relatable, not because I've been through what the characters have, but because the friendships involved changed throughout the story. I feel like this is something that happens in real life as well. I also loved that Sadie had parents that were there for her, and wanted to be there.
Because of the Accident Sadie closes herself off from her friends, not wanting to be around them, then by a chance encounter we start seeing how they sort of become friends again in a different way, maybe not as close as before, but the friendship is there. The story evolves as the characters become different people, and truths are uncovered, truths that could change things in bad ways, but maybe allow the characters to grow in a good way.  By the end of the story each character, at least to me, seems different from the start of the book, but it was great to see them grow and change throughout the story.
I have to admit I struggled with the book while I was reading it, not because of the content of the story but because I was slightly disappointed that parts of the story were one-sided to me. I would have liked to have seen more of Max's answers to Sadie, then just trying to guess what he wrote based on what she did.
All in all I was glad I finally read this book.

~~~~~~~~~~~~
Thanks April for signing up for New to You. I happy you finally got to read this one. I need a reread. I devoured it when I read it and never got around to my review.

Giveaway is US only and ends on November 27, 2018 at 11:59pm EST.
Related Posts