Like any blogger I have a mountain long list of books that I have loved and have yet to review. Some of these books I read last year which means I need a reread before I write my review because we all know there is no way I remember the things I need to remember. Everyday I look at this list and think I should just write some of them and then I get overwhelmed by the number and decide to read a new book. Currently my list has about 15-17 books on it which in hindsight isn't that bad considering, but it still stresses me out.
Honestly it is the series and the 5 star reads that give me the most trouble. I just never know what to say about a series that won't spoil the other books and for the 5 star standalones I just have no words to describe perfect a lot of the time.
Anyway, here are 6 of my top books I have yet to reviewed that were some of my favorites:
A Court of Wings and Ruin
by
Sarah J. Maas
Series:
A Court of Thorns and Roses #3
Published by
Bloomsbury USA Childrens
Published:
May 2nd 2017
Buy on Amazon
Add to Goodreads
A nightmare, I'd told Tamlin. I was the nightmare.

Feyre has returned to the Spring Court, determined to gather information on Tamlin's maneuverings and the invading king threatening to bring Prythian to its knees. But to do so she must play a deadly game of deceit—and one slip may spell doom not only for Feyre, but for her world as well. As war bears down upon them all, Feyre must decide who to trust amongst the dazzling and lethal High Lords—and hunt for allies in unexpected places.
~~~~~~~~~~~~~~~~~~~~~~~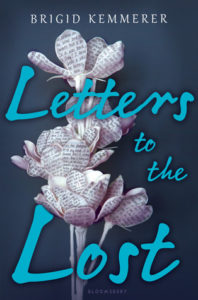 Letters to the Lost
by
Brigid Kemmerer
Published by
Bloomsbury USA Childrens
Published:
April 4th 2017
Buy on Amazon
Add to Goodreads
Juliet Young always writes letters to her mother, a world-traveling photojournalist. Even after her mother's death, she leaves letters at her grave. It's the only way Juliet can cope.

Declan Murphy isn't the sort of guy you want to cross. In the midst of his court-ordered community service at the local cemetery, he's trying to escape the demons of his past.

When Declan reads a haunting letter left beside a grave, he can't resist writing back. Soon, he's opening up to a perfect stranger, and their connection is immediate. But neither Declan nor Juliet knows that they're not actually strangers. When life at school interferes with their secret life of letters, sparks will fly as Juliet and Declan discover truths that might tear them apart.
~~~~~~~~~~~~~~~~~~~~~~~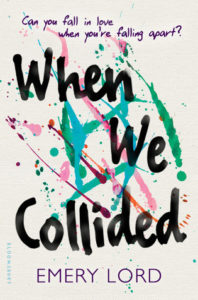 When We Collided by Emery Lord
Published by Bloomsbury USA Childrens
Published: May 16th 2017
Buy on Amazon
Add to Goodreads

Seventeen year-old Jonah Daniels has lived in Verona Cove, California, his whole life, and only one thing has ever changed: his father used to be alive, and now he is not. With a mother lost in a deep bout of depression, Jonah and his five siblings struggle to keep up their home and the restaurant their dad left behind. But at the start of summer, a second change rolls in: Vivi Alexander, the new girl in town.

Vivi is in love with life. Charming and unfiltered, she refuses to be held down by the medicine she's told should make her feel better. After meeting Jonah, she slides into the Daniels' household seamlessly, winning over each sibling with her imagination and gameness. But it's not long before Vivi's zest for life begins to falter. Soon her adventurousness becomes all-out danger-seeking.

Through each high and low, Vivi and Jonah's love is put to the test . . . but what happens when love simply isn't enough?
~~~~~~~~~~~~~~~~~~~~~~~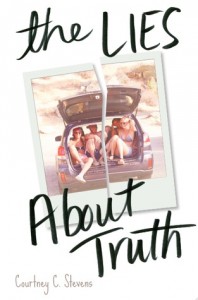 The Lies About Truth by Courtney C. Stevens
Published by HarperTeen
Published: November 3rd 2015
Buy on Amazon
Add to Goodreads

Sadie Kingston, is a girl living in the aftermath. A year after surviving a car accident that killed her friend Trent and left her body and face scarred, she can't move forward. The only person who seems to understand her is Trent's brother, Max.

As Sadie begins to fall for Max, she's unsure if she is truly healed enough to be with him — even if Max is able to look at her scars and not shy away. But when the truth about the accident and subsequent events comes to light, Sadie has to decide if she can embrace the future or if she'll always be trapped in the past.
~~~~~~~~~~~~~~~~~~~~~~~
Empire of Storms by Sarah J. Maas
Series: Throne of Glass #5
Published by Bloomsbury Children's Books
Published: September 6th 2016
Buy on Amazon
Add to Goodreads

KINGDOMS WILL COLLIDE.

The long path to the throne has only just begun for Aelin Galathynius as war looms on the horizon. Loyalties have been broken and bought, friends have been lost and gained, and those who possess magic find themselves at odds with those who don't.

With her heart sworn to the warrior-prince by her side, and her fealty pledged to the people she is determined to save, Aelin will delve into the depths of her power to protect those she loves. But as monsters emerge from the horrors of the past, and dark forces become poised to claim her world, the only chance for salvation will lie in a desperate quest that may mark the end of everything Aelin holds dear.

In this breathtaking fifth installment of the New York Times bestselling Throne of Glass series, Aelin will have to choose what—and who—to sacrifice if she's to keep the world of Erilea from breaking apart.
~~~~~~~~~~~~~~~~~~~~~~~
The Mirror King by Jodi Meadows
Series: The Orphan Queen #2
Published by Katherine Tegen Books
Published: April 5th 2016
Buy on Amazon
Add to Goodreads

Wilhelmina has a hundred enemies.

HER FRIENDS HAVE TURNED. After her identity is revealed during the Inundation, Princess Wilhelmina is kept prisoner by the Indigo Kingdom, with the Ospreys lost somewhere in the devastated city. When the Ospreys' leader emerges at the worst possible moment, leaving Wil's biggest ally on his deathbed, she must become Black Knife to set things right.

HER MAGIC IS UNCONTROLLABLE. Wil's power is to animate, not to give true life, but in the wraithland she commanded a cloud of wraith mist to save herself, and later ordered it solid. Now there is a living boy made of wraith—destructive and deadly, and willing to do anything for her.

HER HEART IS TORN. Though she's ready for her crown, declaring herself queen means war. Caught between what she wants and what is right, Wilhelmina realizes the throne might not even matter. Everyone thought the wraith was years off, but already it's destroying Indigo Kingdom villages. If she can't protect both kingdoms, soon there won't be a land to rule.

In this stunning conclusion to THE ORPHAN QUEEN, Jodi Meadows follows Wilhelmina's breathtaking and brave journey from orphaned criminal on the streets to magic-wielding queen.
~~~~~~~~~~~~~~~~~~~~~~~
How do you manage to keep you book review numbers down? How long is your To Be Reviewed list? Talk to me!
Related Posts