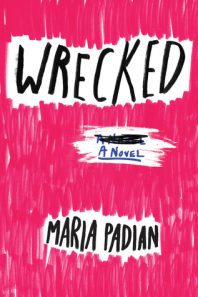 Wrecked
by
Maria Padian
Published by
Algonquin Young Readers
Published:
October 4th 2016
Buy on Amazon
Add to Goodreads
Everyone on campus has a different version of what happened that night.

Haley saw Jenny return from the party, shell-shocked.

Richard heard Jordan brag about the cute freshman he hooked up with.

When Jenny accuses Jordan of rape, Haley and Richard are pushed to opposite sides of the school's investigation. Now conflicting versions of the story may make bringing the truth to light nearly impossible--especially when reputations, relationships, and whole futures are riding on the verdict.

Wrecked offers a kaleidoscopic account of a sexual assault on a college campus. It will leave you thinking about how memory, identity, and who sits in judgment shape what we all decide to believe about the truth.
Wrecked was a weird reading experience for me. To be honest I hated the characters. There truthfully wasn't one character that I actually liked. I don't think I was supposed to like any of them so that was a bit of a struggle. But I loved the story and how true it felt. And it is a story that a lot of people need to read because like it or not these things happen more and more in college and I think we need to pay more attention to that as a society.
I guess the first thing I can say about Wrecked was I didn't envy Haley's position. It's hard to put into words really. I 100% felt for Jenny, even if I didn't like her all the time, I can't imagine what she was going through and how hard it was for her. I also felt bad for Haley. What she was asked to do for Jenny would have been hard if it had been your best friend for years and years and years. But Haley and Jenny had only known each other a few months and here she was with this responsibility. It honestly made me think what I would have done in that position. It was a terrible place for both characters when it comes down to it and I didn't want to be either one of them.
I guess when it comes down to it Wrecked is just an important book. It's a book that realistically looks at a he said/she said argument in terms of sexual assault. It's a book that shows you how sides are drawn and how people are put in the middle. A book that shows you how the victim is made into a criminal. Like the characters or not, it's a book that should be read.

For This Life Only by Stacey Kade
Published by Simon & Schuster Books for Young Readers
Buy on Amazon
Add to Goodreads

A young man struggles to move forward after the death of his twin brother in this gripping, coming-of-age tale about loss, redemption, love, and the moment you begin to see the world differently.

Three minutes.

Jacob Palmer died for three life-changing minutes.

And when he woke up, nothing was the same. Elijah, his twin brother, is dead, and his family is broken. Jace's planned future is crushed, along with his pitching arm. Everyone keeps telling him that Eli's in a better place, but Jace isn't so sure. Because in those three minutes, there was nothing.

Overwhelmed by guilt and doubt, Jace struggles to adjust to this new version of the world, one without his brother, one without the certainties he once relied on. And then Thera comes into his life.

She's the last girl he should be turning to for help.

But she's also the first person to truly see him.
Having just read Stacey Kade's book, 738 Days, not that long ago, I was excited with the prospect of reading another by her. The concept of For This Life Only sounded great. It totally seemed to be a book that was my kind of book. Sadly when I finished it I didn't have the same feelings I felt when I read 738 Days. To be truthful I was really conflicted (still am) on how I felt about it.
I guess in all honesty it kind of threw me a little as I was reading. I didn't expect For This Life Only to have such a strong religious theme to it and it did. Don't get me wrong, I will happily read books that are religious themed (Pure by Terra Elan McVoy and Small Town Sinners by Melissa Walker are two of my favorites) but I want to know it is going to be religious when I go in. I had no idea this book was going to be and it threw me a little.
I really liked the idea behind the book, still do, but in the end I felt like a lot wasn't answered and the religious aspect was huge but really didn't even add to the story. I guess I don't know what felt off for me, but something did and when all is said and done I was sad. If you do decide to read For This Life Only know there are religious parts. Maybe knowing that going in will make a difference. I wish I did.

Game On by Michelle Smith
Series: Lewis Creek #1
Published by Bloomsbury Spark
Buy on Amazon
Add to Goodreads


As king of baseball in the small town of Lewis Creek, Eric Perry can have any girl he wants and win every game he plays. But when a fight lands him in jail, he's only got one more strike before his baseball career is over for good. His only chance for redemption? The girl next door, Bri Johnson.

Bri hasn't talked to Eric in months—for starters, she's been too busy dealing with her jerk of an ex-boyfriend, not to mention the fact that Eric's been preoccupied trying to drink every keg in the country dry. But when he needs a way to stay on the team, she proposes a plan: if he helps her out with community service, he can stay on the team. At first it's a nightmare—Eric and Bri stopped being friends years ago, surely that was for a good reason, right? But as volunteering turns to bonding over old memories of first kisses under the stars, they start to have trouble remembering what pushed them apart.

In a town as small as Lewis Creek, nothing stays secret for long and their friendship and romance might mean bad news. But in this final, tumultuous spring before graduation, Eric and Bri are about to realize that nobody's perfect alone, but they might just be perfect together.
Game On is definitely my favorite of the two books in the Lewis Creek stories. Eric and Bri's story was the perfect "girl next door" type of story. Seriously I just loved both of these characters so much. And they played off each other perfectly. They had a natural chemistry and you just couldn't help falling for them. They were both in a place where they needed to grow and change and I think finding their lost friendship was a way for them to do that.
I guess what I liked the most was how Michelle Smith told the story of Eric and Bri. They didn't go from not being friends to being friends in the blink of an eye. It was a process and it slowly happened, naturally happened. And when it did they remembered all the things that had made them besties in the first place and built off of that. That was what I enjoyed the most and what made Game On a book I would recommend.
Related Posts