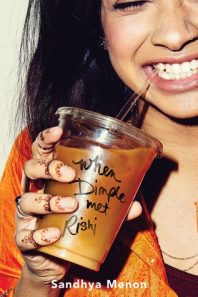 When Dimple Met Rishi
by
Sandhya Menon
Published by
Simon Pulse
Published:
May 30th 2017
Buy on Amazon
Add to Goodreads
A laugh-out-loud, heartfelt YA romantic comedy, told in alternating perspectives, about two Indian-American teens whose parents have arranged for them to be married.

Dimple Shah has it all figured out. With graduation behind her, she's more than ready for a break from her family, from Mamma's inexplicable obsession with her finding the "Ideal Indian Husband." Ugh. Dimple knows they must respect her principles on some level, though. If they truly believed she needed a husband right now, they wouldn't have paid for her to attend a summer program for aspiring web developers…right?

Rishi Patel is a hopeless romantic. So when his parents tell him that his future wife will be attending the same summer program as him—wherein he'll have to woo her—he's totally on board. Because as silly as it sounds to most people in his life, Rishi wants to be arranged, believes in the power of tradition, stability, and being a part of something much bigger than himself.
The Shahs and Patels didn't mean to start turning the wheels on this "suggested arrangement" so early in their children's lives, but when they noticed them both gravitate toward the same summer program, they figured, Why not?

Dimple and Rishi may think they have each other figured out. But when opposites clash, love works hard to prove itself in the most unexpected ways.
Originally, When Dimple Met Rishi wasn't on my radar. To be honest I hadn't even heard of the book. Somehow it managed to slip right past my contemporary romance love detector. Luckily I have a very kind friend that read it, told me about it, and lent it to me. And let me tell you, thank goodness for this friend because without her I would have missed a really great book with a fantastic group of characters and a story to back it all up.
I'm not going to pretend I know a lot of Dimple and Rishi's culture, arranged marriages, family obligations. I truly don't, and that is part of what drew me to the book to begin with. I love learning more about those things while reading a truly great contemporary romance.  And Sandhya Menon did exactly that. She let me see a little but about a culture that is very different from my own and made me understand a little more about the arranged marriage tradition that I didn't understand before. Seeing it through the eyes of two teens, on opposite sides of the matter, really was a great way to do it.
Because honestly Rishi and Dimple couldn't have been any more different. They were 100% the other's opposite. Rishi was all for tradition and family obligations while Dimple wanted to be free and make her own choices and not be weighed down by something she felt was out of her control. But as the story progressed and Dimple and Rishi got to know each other something amazing happened. They both started to grow-up and think about compromise and what was important to them and if they could both have what they wanted. They learned about being an adult from one another and the choices they were making for their future and I LOVED that. I loved that there was no right or wrong answer and that they learned that.
Honestly there isn't much I didn't love about When Dimple Met Rishi. I thought all the extra side stories were a little distracting and just that, extra. But I truly did enjoy this story of two people deciding what was right for them even if it went against everything they believed to be true. It was truly swoony to watch these two get to know each other and learn what it is like to be with someone. That is what When Dimple Met Rishi was to me, an amazing story of growing up. Definitely pick this book up. It will become a fave.
Related Posts