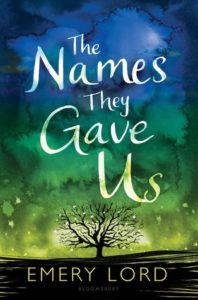 The Names They Gave Us
by
Emery Lord
Published by
Bloomsbury USA Childrens
Published:
May 16th 2017
Buy on Amazon
Add to Goodreads
Lucy Hansson was ready for a perfect summer with her boyfriend, working at her childhood Bible camp on the lake and spending quality time with her parents. But when her mom's cancer reappears, Lucy falters-in her faith and in her ability to cope. When her boyfriend "pauses" their relationship and her summer job switches to a different camp-one for troubled kids-Lucy isn't sure how much more she can handle. Attempting to accept a new normal, Lucy slowly regains footing among her vibrant, diverse coworkers, Sundays with her mom, and a crush on a fellow counselor. But when long-hidden family secrets emerge, can Lucy set aside her problems and discover what grace really means?

Emotionally-charged and unforgettable, Emery Lord's storytelling shines with the promise of new love and true friendship, even in the face of life's biggest challenges.
I received this book for free in exchange for an honest review. This does not affect my opinion of the book or the content of my review.
Sometimes you read a book and you just don't even know what to say about it. It is pretty much perfect in all the ways that surprise you yet don't surprise you at all. It will make you feel things as you read, make you cry, make you laugh, make you swoon. That is what The Names They Gave Us did to me. In typically Emery Lord fashion I was blown away by this book's beauty and realness.
I'm not really sure how to describe what I felt and loved about this book. First and foremost I feel like I should say that this is what you would call a "cancer book" or even a "religion book". Sure those are huge parts of Lucy's story, parts of who Lucy is, but I don't think those are the two things that end up defining her. What ends up defining Lucy is Lucy. She decides to open her mind and heart to new experiences and to new people. And Lucy decides it is okay to not trust in her faith, to be angry at the hand she has been dealt. To me that is really what The Names They Gave Us is all about, finding out who you are and want to be and being okay with it. Don't get me wrong, Lucy's mother having cancer is a major part of this story and truly broke my heart for Lucy, but that is just the beginning of her story. With the help of a new camp, new friends and a boy to mend her broken heart a new, stronger Lucy is born and that is the heart of the whole story. Well that and the friends Lucy makes
Lucy's friends at the new camp are truly amazing and inspiring. They are all dealing with something whether it is anxiety or illness or abuse. They all have some kind of baggage but they also don't carry that baggage alone. They let each other help and they rely on one another for support. It is the definition of a true friendship. And they willing, okay, some more than others, take Lucy into their fold which is something she needed desperately without even knowing it.  And this isn't even talking about the beauty that is Henry and what he adds to the change in Lucy. Gah. I'm smiling just thinking about Lucy and Henry.
Truth, I'm not convinced Emery Lord is human. Okay well I know she is because I have met her, but still. The Names They Gave Us is Emery's 4th book (I've been a massive fan since Open Road Summer) and her 4th book to completely blow me away. Every time I read a book by her I think her next one can't be better and then I read the next one. It's unfathomable yet she manages to do it every time. There is something just so magical about her books. I swear if you are not a fan yet you will be as soon as you read something with her name on it. Make sure you add The Names They Gave Us to your TBR.
Related Posts