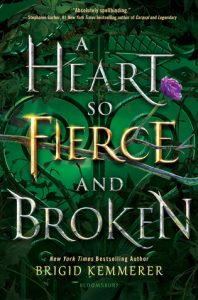 A Heart So Fierce and Broken
by
Brigid Kemmerer
Series:
Cursebreakers #2
Published by
Bloomsbury YA
Published:
January 7, 2020
Buy on Amazon
Add to Goodreads
In the sequel to New York Times bestselling A Curse So Dark and Lonely, Brigid Kemmerer returns to the world of Emberfall in a lush fantasy where friends become foes and love blooms in the darkest of places.

Find the heir, win the crown.
The curse is finally broken, but Prince Rhen of Emberfall faces darker troubles still. Rumors circulate that he is not the true heir and that forbidden magic has been unleashed in Emberfall. Although Rhen has Harper by his side, his guardsman Grey is missing, leaving more questions than answers.

Win the crown, save the kingdom.
Rumored to be the heir, Grey has been on the run since he destroyed Lilith. He has no desire to challenge Rhen--until Karis Luran once again threatens to take Emberfall by force. Her own daughter Lia Mara sees the flaws in her mother's violent plan, but can she convince Grey to stand against Rhen, even for the good of Emberfall?
The heart-pounding, compulsively readable saga continues as loyalties are tested and new love blooms in a kingdom on the brink of war.
I received this book for free in exchange for an honest review. This does not affect my opinion of the book or the content of my review.
When I reviewed A Curse So Dark and Lonely I struggled to find the words to tell you how much you needed that book in your life. All I wanted to do was shout from the rooftops how it was a book you needed to read ASAP. Honestly though, writing that review was NOTHING compared to finding the words for A Heart So Fierce and Broken. Seriously, this book was pure perfection. I can't even explain it, but it was somehow even better than Curse.
A Heart So Fierce and Broken starts off essentially when A Curse So Dark and Lonely left off. (If you have not read Curse now is the time to stop reading as spoilers will ensue.) The curse is now broken and the monster Rhen was, is gone. But there is a new problem that has taken shape and it is in the form of the true heir of Emberfall who happens to be the missing Grey. Trying to do the right thing for the good of his country Grey has taken off in order to hide the secret. Rhen isn't the only one after the missing heir. Karis Luran is on the hunt for him too, but to help further her own agenda.  But when Grey unexpectedly meets Karis Luran's daughter, Lia Mara, he isn't quite sure anymore who the best ruler of Emberfall will be.
I'm not going to lie, I was a little bias going into this story because Grey was my favorite character in Curse. He was just the perfect mix of everything and I truly was looking forward to his story. But man did I get even better than my expectations. The Grey we got in Curse was only a shadow of the real Grey and I loved him even more. Kemmerer used what I loved about Grey in book one and made him not only more lovable but also more human and flawed and broken. She also gave him a supporting group of characters that truly helped make him shine. And I'm not even talking about his relationship with Lia Mara (THE BEST!!!), but the people he surrounded himself with as a whole. That is what brought this book to life.
Again I am left with the trouble of finding the right words without saying too much but saying more than 'you need to read this'. It really is so fantastically done. I mean I wasn't surprised I loved it, but I'm surprised how much I felt I needed it. And you need it too. Make sure this book or series is on your TBR. I for one hope we get lots more books in it!
Related Posts