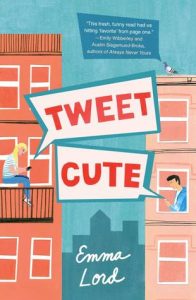 Tweet Cute
by
Emma Lord
Published by
Wednesday Books
Published:
January 21, 2020
Buy on Amazon
Add to Goodreads
A fresh, irresistible rom-com from debut author Emma Lord about the chances we take, the paths life can lead us on, and how love can be found in the opposite place you expected.

Meet Pepper, swim team captain, chronic overachiever, and all-around perfectionist. Her family may be falling apart, but their massive fast-food chain is booming ― mainly thanks to Pepper, who is barely managing to juggle real life while secretly running Big League Burger's massive Twitter account.

Enter Jack, class clown and constant thorn in Pepper's side. When he isn't trying to duck out of his obscenely popular twin's shadow, he's busy working in his family's deli. His relationship with the business that holds his future might be love/hate, but when Big League Burger steals his grandma's iconic grilled cheese recipe, he'll do whatever it takes to take them down, one tweet at a time.

All's fair in love and cheese ― that is, until Pepper and Jack's spat turns into a viral Twitter war. Little do they know, while they're publicly duking it out with snarky memes and retweet battles, they're also falling for each other in real life ― on an anonymous chat app Jack built.

As their relationship deepens and their online shenanigans escalate ― people on the internet are shipping them?? ― their battle gets more and more personal, until even these two rivals can't ignore they were destined for the most unexpected, awkward, all-the-feels romance that neither of them expected.
I received this book for free in exchange for an honest review. This does not affect my opinion of the book or the content of my review.
I love a good contemporary romance book. Because of this love I read a lot of them so it is hard for a book to impress me sometimes. The book will be off to a great start and then something will happen and it will take away that complete and utter love I had been feeling. The end might feel rushed, the "required" break up might happen too late and the payoff isn't great. But when everything clicks I walk away feeling so happy and satisfied I can't help but think about the book for a long time. Tweet Cute is one of those books. It a book that hit everything I love about a perfectly told YA contemporary romance and I couldn't get enough of it.
Tweet Cute Is the story of Pepper and Jack, two teens that are sworn enemies. Pepper's family owns a restaurant chain (Big League Burger) while Jack's family owns a popular deli in New York. When Big League Burger steals the deli's popular grilled cheese recipe a Twitter war breaks out and goes viral. Soon Pepper and Jack are going head to head on Twitter while unknowingly falling for each on another app. And as their Twitter war escalates they both start to realize falling for your enemy may not be that bad.
I truly cannot begin to explain how much I loved this unexpected gem of a book. Everything about it felt magical and perfect and reminded me why I love to read YA in the first place. Pepper and Jack (I giggle thinking about their names and cheese) had fantastic chemistry and amazing banter. They were both stuck in their family's shadow, Jack with his twin brother and Pepper with her mom's business. They were under extreme amounts of pressure and their fighting and online flirting was just what they needed. The slow burn romance between the two will have you screaming at the book telling them to stop fighting what is happening and I honestly wouldn't have it any other way.
Tweet Cute feels like a book that was written just for you when you read it and I can't stress enough how much I loved it and how much everyone should read it. Simply put this book was delightful. A MUST READ!
~~~~~~~~~~~
Early Praise:
"Tweet Cute delivers in every possible way: a perfect enemies-to-lovers romance, a whip-smart plotline, and endearingly real characters. I devoured it." – Francesca Zappia, author of Eliza and Her Monsters
"Sweet and fun! An adorable debut that updates a classic romantic trope with a buzzy twist." – Jenn Bennett, author of Alex, Approximately and Serious Moonlight
"A witty rom-com reinvention for the Twitter age, Tweet Cute pairs delicious online rivalry with deeply relatable insights on family pressure and growing up. This fresh, funny read had us hitting 'favorite' from page one." – Emily Wibberley and Austin Siegemund-Broka, authors of Always Never Yours and If I'm Being Honest
Have you read this gem or is it sitting on your TBR pile waiting?
Related Posts