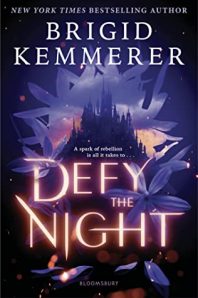 Defy the Night
by
Brigid Kemmerer
Series:
Defy the Night #1
Published by
Bloomsbury YA
Published:
September 14, 2021
Buy on Amazon
Add to Goodreads
The kingdom of Kandala is on the brink of disaster. Rifts between sectors have only worsened since a sickness began ravaging the land, and within the Royal Palace, the king holds a tenuous peace with a ruthless hand.

King Harristan was thrust into power after his parents' shocking assassination, leaving the younger Prince Corrick to take on the brutal role of the King's Justice. The brothers have learned to react mercilessly to any sign of rebellion--it's the only way to maintain order when the sickness can strike anywhere, and the only known cure, an elixir made from delicate Moonflower petals, is severely limited.

Out in the Wilds, apothecary apprentice Tessa Cade is tired of seeing her neighbors die, their suffering ignored by the unyielding royals. Every night, she and her best friend Wes risk their lives to steal Moonflower petals and distribute the elixir to those who need it most--but it's still not enough.

As rumors spread that the cure no longer works and sparks of rebellion begin to flare, a particularly cruel act from the King's Justice makes Tessa desperate enough to try the impossible: sneaking into the palace. But what she finds upon her arrival makes her wonder if it's even possible to fix Kandala without destroying it first.
I received this book for free in exchange for an honest review. This does not affect my opinion of the book or the content of my review.
In 2017 I fell in love with Brigid Kemmerer and her writing. I picked up one of her books, Love Letters to the Lost, at 7am one day and by the end of that night I was done, while working a full day. Her writing grabbed me immediately and I never turned back. Since then I have devoured 5 other books by her and have loved them all to pieces thinking she could never get any better. And then I read Defy the Night. This book, to me, is by far Brigid's best work and I'm obsessed and head over heels in love with it.
Defy the Night is the first book in Kemmerer's newest fantasy series. It's the story of Kandala, a kingdom being torn apart by corruption. There is an illness sweeping through the lands and only the richest can afford the elixir made with a diminishing supply of Moon Flower. While King Harristan (put into power after his parents assassination) and Prince Corrick, the King's Justice, trying to keep the country from falling apart, Tessa and Wes sneak around the Wilds stealing what they need to create the elixir and passing it out the poor. But when words starts that the elixir may not be working and the King's Justice commits an act that destroys Tessa's heart, she makes a decision and sneaks into the palace. But behind the palace walls is not anything Tessa expects and soon she learns that not everything is completely black and white and things she thought she knew are not as they seem at all.
Without going into detail, Defy the Night is a magical book. The world and characters that Brigid created had me on the end of my seat, crying, and swooning. I was so completely wrapped up in Tessa world and in Prince Corrick's world that I didn't want it to end. Even with the story feeling close to current life, an illness destroying a nation, I was never focused on that aspect. I was focused on the position King Harristan put his brother in as the King's Justice. I was focused on Tessa and her need to help at any means. I was focused on my love for Prince Corrick and my heartbreak for him too. All these things lead to a story that was so full of intrigue and love I couldn't turn away.
In my eyes Defy the Night is complete perfection. It had everything I love in a good fantasy book. It was the start of a series that I think is going to be amazing and will stay with readers for a long time. This is not a book to sleep on. You want this book and you want it NOW. Simply put…it was fantastic!
Related Posts