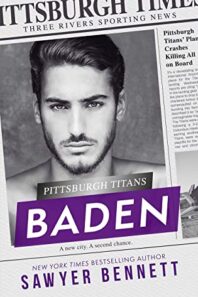 Baden
by
Sawyer Bennett
Series:
Pittsburgh Titans #1
Published by
Big Dog Books
Published:
January 11, 2022
Buy on Amazon
Add to Goodreads
After suffering a horrific injury that threatens to end his career, Baden Oulett is about to learn that sometimes a fresh start is just what the doctor ordered.

I worked my whole life to achieve one goal—play professional hockey. As part of the defending Cup champion Arizona Vengeance, I was living my dream until one split second decision destroyed it all. Instead of lacing up my skates and hitting the ice, I've spent my days in rehab and physical therapy just so I could walk again. When a coaching opportunity with the Pittsburgh Titans is presented to me, I find myself with a career I had never considered but which allows me to continue being part of the sport that I love.

While my injuries are physical, the same can't be said for the woman I rescued. Suffering from wounds that can't be seen, Sophie Winters has withdrawn from the world in fear and guilt. I didn't know Sophie before that fateful night and have only met her once since, but I refuse to let her face her demons alone. Determined to be a friend, I support Sophie in the only way I know how… by simply being there.

Through our shared trauma, Sophie and I begin to find peace within one another. As we grow closer, what started as friendship becomes more intimate until our broken pieces become one. But can a love born of anguish endure, or will the pain of our past prove too much to overcome?
I received this book for free in exchange for an honest review. This does not affect my opinion of the book or the content of my review.
I also love when we get a new Sawyer Bennett hockey book. I was introduced to her books in 2016 and I haven't looked back. Since then I have read all 11 Cold Fury books and 11 Arizona Vengeance books. I can't seem to get enough. So imagine my excitement when I learned Bennett was spinning off once again and giving us a new team to get to know, Pittsburgh Titans and that she was kicking off the series with Baden. And as much as I loved the little we got of Baden in Arizona, I loved him even more in his own book.
Baden Oulett has been sidelined from hockey after a horrific act of violence that left his career in jeopardy. He has been kind of lost on what do to with his life and how he fits in in the hockey world. And then tragedy strikes and Baden loses a friend in a plane crash. Still railing he goes to his funeral and Pittsburgh and is offered an opportunity to coach for the Titans. Baden isn't really sure if he is ready to give up his dreams but he also remembers the woman he was injured saving lives in the city he has the opportunity to start over in. Making a choice Baden moves and begins a friendship with Sophie that is healing for them both in more ways than one.
First and foremost this was a great start to a new series. I loved getting to know Baden more and see his relationship with Sophie grow and change and become important to the both of them after what the went through. I also really liked getting to know the players, owner, and staff of the Pittsburgh Titans as they rebuild na team from the bottom up. I couldn't help but think of who's books I look forward to reading in the future. It hit on a lot of really good notes about trauma and moving on and guilt and I really liked that. My only complaint is that it was a little too abrupt at the end. The book kind of just ended and it needed more but I am hopeful that more will e coming in the next few books.
In the end Baden was a wonderful book with a lot of chemistry between the main couple and made me excited for more to read in the world. I highly recommend reading Baden today.
Related Posts