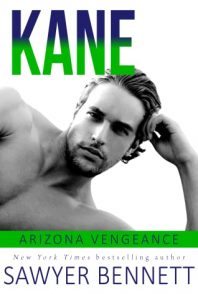 Kane
by
Sawyer Bennett
Series:
Arizona Vengeance #8
Published by
Big Dog Books
Published:
September 15, 2020
Buy on Amazon
Add to Goodreads
I have a problem.

Potential problem?

I'm not really sure. Here's the deal.

There's this girl—isn't that how it always starts?—and her name is Mollie. I like her. I mean really like her. I hope that doesn't make me seem less manly than my professional hockey player persona implies. But here's the issue—she's my best friend. The one person I can count on for everything, who's been there with me for all the moments, big and small.

When Mollie shows up at my door, travel weary and scared following an incident with an ex, my instinct to protect her goes into overdrive. It's then that I know she's more than just my best friend and the skates are swept out from under me when I find out she feels the same way.

Our transition from friends to lovers to potentially something more is seamless, the Arizona Vengeance is back on the ice looking for a repeat championship, and my life has never been better. Just when I think I've got it all figured out, the realities of us both having careers which keep us on the road put our blossoming relationship on ice.

It feels like the game just went into overtime and I'm on the verge of either the biggest win or most disappointing loss of my life. And losing is never an option.
I received this book for free in exchange for an honest review. This does not affect my opinion of the book or the content of my review.
I love a good hockey romance series. It is fun to follow along with a bunch of different players on a team and watch as they find love where they least expect it. Is it realistic that they will fall one after another? Possibly not. But man is it pure, perfect entertainment. And all the Arizona Vengeance sergers books, including Kane, the newest in the series, has been that…excellent entertainment.
Kane is the 8th book in the Arizona Vengeance series. It's the story of Kane, one of the newer members of the team. Kane has made a life for himself and has really meshed well with his teammates who play on his line. All he needs is his best friend Mollie, and when she shows up everything is better. Unfortunately Mollie, a travel blogger, is around because of something that happened and she needs Kane for than ever. As the two of them get closer and closer what was once a solid friendship slows starts to into something more and just friends doesn't really apply to them.
What I loved about Kane and Mollie's story was their deep, deep connection was rooted in their solid friendship they had built over years of knowing each other. They understood one another in a way others didn't do their mutual affection was so easy to change into something else as they started to think of one another in a new way. I loved that about this book. It felt natural and was really the crux of the love story.
In the end Kane was exactly what I have come to expect from a Sawyer Bennett book. It was charming and sweet and had a lot of hot hockey dudes skating around. If I had a complaint, I would say that I wish it were longer so the end could really have been flushed out. But all in all a great addition to the series and one you should have on your TBR.
Related Posts