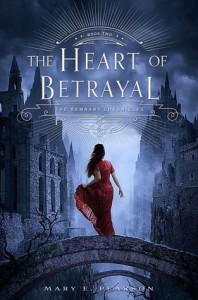 The Heart of Betrayal
by
Mary E. Pearson
Series:
The Remnant Chronicles #2
Published by
Henry Holt and Co. (BYR)
Published:
July 7th 2015
Buy on Amazon
Add to Goodreads
Intrigue abounds in this hotly anticipated sequel to The Kiss of Deception!Intrigue abounds in this hotly anticipated sequel to The Kiss of Deception!

Held captive in the barbarian kingdom of Venda, Lia and Rafe have little chance of escape. Desperate to save her life, Lia's erstwhile assassin, Kaden, has told the Vendan Komizar that she has the gift, and the Komizar's interest in Lia is greater than anyone could have foreseen.

Meanwhile, nothing is straightforward: there's Rafe, who lied to Lia, but has sacrificed his freedom to protect her; Kaden, who meant to assassinate her but has now saved her life; and the Vendans, whom Lia always believed to be barbarians. Now that she lives amongst them, however, she realizes that may be far from the truth. Wrestling with her upbringing, her gift, and her sense of self, Lia must make powerful choices that will affect her country... and her own destiny.
I received this book for free in exchange for an honest review. This does not affect my opinion of the book or the content of my review.

I didn't know what to expect from book two of The Remnant Chronicles. I mean The Kiss of Deception was a pretty epic book for me and the ending had me dying to see where it would go. But it also had me terrified. I mean a book with Heart AND Betrayal in the title can lead to NO WHERE GOOD! But also, I needed to know so I had to read it. Verdict…it was excellent! The end killed me, but really strong second book.
The Heart of Betrayal picks up where The Kiss of Deception left off. To be honest I don't want to say too much about the plot as it may give some stuff away. Basically Lia and Rafe are being held in Venda thanks to Kaden. They are all they have and must depend on each other for survival and safety but they also must rely on deception if they want to live. Both Lia and Rafe, and even Kaden, play dangerous games of lies and half-truths in order to live. But while this is all going on Lia is also trying to figure out her life and the two men in it that lied to her. With all of their secrets out in the open, well almost all, Lia has no idea what is right and what is wrong anymore and if she should trust people or her gut or even her own gift and destiny.
I liked Lia a lot in this story. In The Kiss of Deception she was very much still a young girl that didn't really understand the way of the world. Her eyes were open to a lot but she still didn't see it. Not until she was in Venda and was fighting to stay alive anyway she could. For me she grew-up in The Heart of Betrayal. Her eyes were opened to things she was shielded from and saw people and things for what they were. It was refreshing to see this side of her.
I really enjoyed Lia's relationships with both Kaden and Rafe. There are a lot of feelings and emotions on both ends. She feels certain things for each of these men that have become important to her, but she never really questions what those feelings are. She knows in her heart of heart where she belongs and with who but she has to allow herself to see that even though it is clear from the beginning in my opinion. This really helped in making Lia a great character.
Truthfully, I thought the Komizar was a total creeper. He reminded me of the guy in Slumdog Millionaire that Latika lived with and totally gave me the heebie-jeebies. But he was interesting and I was not able to really figure him out. I almost wished for more of him just so I could see other sides that were hinted at. And his relationship with Kaden was definitely one to be examined. Komizar was probably one of the most complex characters in the book by far.
All in all I enjoyed The Heart of Betrayal. I didn't love it like I loved The Kiss of Deception, but it was a solid book that moved the story along and that makes we want to know where else Pearson will be taking us. The end was ACTION PACKED and left me dying for book 3. And it left me with a lot of questions. All I can say for sure is that book 3 will be a doozy!
Related Posts