Here are a few brief thoughts on some Netgalley reads: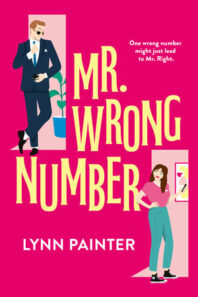 Mr. Wrong Number
by
Lynn Painter
Published by
Berkley Books
Published:
March 1, 2022
Buy on Amazon
Add to Goodreads
Things get textual when a steamy message from a random wrong number turns into a thrilling anonymous relationship in this hilarious rom-com by Lynn Painter.

Bad luck has always followed Olivia Marshall...or maybe she's just the screw-up her family thinks she is. But when a What are you wearing? text from a random wrong number turns into the hottest, most entertaining--albeit anonymous--relationship of her life, she thinks things might be on the upswing....

Colin Beck has always considered Olivia his best friend's annoying little sister, but when she moves in with them after one of her worst runs of luck, he realizes she's turned into an altogether different and sexier distraction. He's sure he can keep his distance, until the moment he discovers she's the irresistible Miss Misdial he's been sort of sexting for weeks--and now he has to decide whether to turn the heat up or ghost her before things get messy.
I received this book for free in exchange for an honest review. This does not affect my opinion of the book or the content of my review.
I was really looking forward to Mr. Wrong Number. The description seemed so fun and something I would 100% into. It was a brother's best friend story which is one of my favorite kind of romance tropes. And honestly I was really into about 82% of this story, but that is where the love ended. Don't get my wrong, the stuff I loved was worth reading, but as a whole it just missed the mark for me. The last 17% just didn't fit what I had loved in the beginning of the story. It wasn't painful to read but I found myself getting more annoyed by each second with how the characters were acting and not actually talking to one another. That was what really bugged me because it felt it went on for just too long, the not talking. But again, I did really enjoy it just not to the level I expected to when I started.

In a New York Minute
by
Kate Spencer
Published by
Forever
Published:
March 15, 2022
Buy on Amazon
Add to Goodreads
Franny Doyle is having the worst day. She's been laid off from her (admittedly mediocre) job, the subway doors ripped her favorite silk dress to ruins, and now she's flashed her unmentionables to half of lower Manhattan. On the plus side, a dashing stranger came to her rescue with his (Gucci!) suit jacket. On the not-so-plus side, he can't get away from her fast enough.

Worse yet? Someone posted their (entirely not) meet-cute online. Suddenly Franny and her knight-in-couture, Hayes Montgomery III, are the newest social media sensation, and all of New York is shipping #SubwayQTs.

Only Franny and Hayes couldn't be a more disastrous match. She's fanciful, talkative, and creative. He's serious, shy, and all about numbers. Luckily, in a city of eight million people, they never have to meet again. Yet somehow, Hayes and Franny keep running into each other—and much to their surprise, they enjoy each other's company. A lot. But when Franny's whole world is turned upside down (again!), can she find the courage to trust in herself and finally have the life—and love—she's always wanted?
I received this book for free in exchange for an honest review. This does not affect my opinion of the book or the content of my review.
I had a good feeling about In a New York Minute when a trusted friend was telling me how amazing it was. She said I would love it as soon as I was able to read it and she was not wrong. This book was such a joy to read. It had such a personality and 100% fit what an actually romcom book is. It was funny and flirty and delightful. The way that Franny and Hayes meet is comedy perfection and the nightmare of anyone that rides the subway to and from work. Franny's female friends are top notch and friendship goals for sure. And the relationship between Hayes and Franny is the bees knees. It really was a joy to read and I didn't want to stop once I started. My only complaint was that it left me wanting to run and visit New York because man do I miss that city.

A Brush with Love
by
Mazey Eddings
Published by
St. Martin's Griffin
Published:
March 1, 2022
Buy on Amazon
Add to Goodreads
Harper is anxiously awaiting placement into a top oral surgery residency program when she crashes (literally) into Dan. Harper would rather endure a Novocaine-free root canal than face any distractions, even one this adorable.

A first-year dental student with a family legacy to contend with, Dan doesn't have the same passion for pulling teeth that Harper does. Though he finds himself falling for her, he is willing to play by Harper's rules.

So with the greatest of intentions and the poorest of follow-throughs, the two set out to be "just friends." But as they get to know each other better, Harper fears that trading fillings for feelings may make her lose control and can't risk her carefully ordered life coming undone, no matter how drool-worthy Dan is.

Blood, gore, and extra-long roots? No problem. The idea of falling in love? Torture.
I received this book for free in exchange for an honest review. This does not affect my opinion of the book or the content of my review.
I admit I wasn't sure about A Brush with Love at first. When I started it I had no idea where it was going to go. But as I read more I became more and more endeared by Harper and Dan. And the way the last 10% was done really sold me on how amazing this book was. Dan and Harper had an amazing spark, as friends and as more. Watching as Harper let go of some of her control and allowed herself to fall for Dan was magical. It really showed what the right person in your life can do and how it can shift your priorities to still get what you want out of life but to have more too. Simply put, this book was just delightful and something everyone needs to read!
Related Posts