Shiver
by
Maggie Stiefvater
Series:
The Wolves of Mercy Falls #1
Published by
Scholastic Press
Published:
August 1, 2009
Buy on Amazon
Add to Goodreads
For years, Grace has watched the wolves in the woods behind her house. One yellow-eyed wolf—her wolf—is a chilling presence she can't seem to live without.

Meanwhile, Sam has lived two lives: In winter, the frozen woods, the protection of the pack, and the silent company of a fearless girl. In summer, a few precious months of being human… until the cold makes him shift back again.

Now, Grace meets a yellow-eyed boy whose familiarity takes her breath away. It's her wolf. It has to be. But as winter nears, Sam must fight to stay human—or risk losing himself, and Grace, forever.
Honestly I'm not really into the vampire/werewolf/supernatural kind of books, but this was suggested to me so I took a leap of faith and read it. Thank god I did! How could I not have fallen in love with this story?!? Between the amazingly creative descriptions that made you feel you were in Mercy Falls and the love story of Grace and Sam I was immediately sold. Stiefvater has created such great characters with such an amazing lanuage it was easy to forget it was a supernatural book. Sam was just so sweet and innocent not wanting to hurt Grace at all. And Grace was witty, charming and strong. She knew what she wanted and really wouldn't let anyone stop her. Add in Jack, Beck and Isabel(who completely grew on me by the end) and you have a perfect Romeo and Juliette-esq story with a modern twist. Can't wait to get lost in Stiefvater's world again. Simply put…amazing!
Linger
by
Maggie Stiefvater
Series:
The Wolves of Mercy Falls #2
Published by
Scholastic Press
Published:
July 13, 2010
Buy on Amazon
Add to Goodreads
the longing.

Once Grace and Sam have found each other, they know they must fight to stay together. For Sam, this means a reckoning with his werewolf past. For Grace, it means facing a future that is less and less certain.

the loss.

Into their world comes a new wolf named Cole, whose past is full of hurt and danger. He is wrestling with his own demons, embracing the life of a wolf while denying the ties of being a human.

the linger.

For Grace, Sam, and Cole, life a constant struggle between two forces--wolf and human--with love baring its two sides as well. It is harrowing and euphoric, freeing and entrapping, enticing and alarming. As their world falls apart, love is what lingers. But will it be enough?
I must start this review with saying again that for the record I am not a fan of "supernatural" books. I was never into the Twilight books or any of the other million vampire and werewolf books that can be found on any shelf at the bookstore. Just because something is popular doesn't mean it is a good subject to write. I'm more of the kind of person that likes realistic stories about love, friendship and romance. With that being said I have tried to broaden my horizons and step outside of my comfort zone. I've read books I never would have picked up in a million years and in all honesty, thank god I did.
I have never read a book that has such imagery as the imagery that Stiefvater creates in Linger with her words. You feel every single thing these characters are feeling, smell everything they are smelling and see everything they are seeing. The simplest thing as a leave on the ground is transformed into a work of art that should be on a museum wall. It truly is unbelievably refreshing to read an author with so much power that she can transform a "supernatural" book into a love story of beauty.
A definite must read in the unfolding and ever changing love story of Sam and Grace. The growth of Isabel and the addition of Cole(hotter then hot!) are welcome pieces to this story that just left me wanting more. You will not be disappointed if you take a chance on this book. I wasn't. Can't wait to read the last and final part of the series.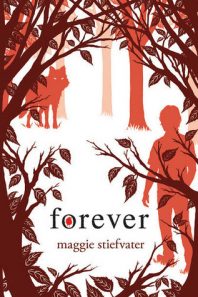 Forever
by
Maggie Stiefvater
Series:
The Wolves of Mercy Falls #3
Published by
Scholastic Press
Published:
July 12, 2011
Buy on Amazon
Add to Goodreads
then.When Sam met Grace, he was a wolf and she was a girl. Eventually he found a way to become a boy, and their love moved from curious distance to the intense closeness of shared lives.

now.That should have been the end of their story. But Grace was not meant to stay human. Now she is the wolf. And the wolves of Mercy Falls are about to be killed in one final, spectacular hunt.

forever.Sam would do anything for Grace. But can one boy and one love really change a hostile, predatory world? The past, the present, and the future are about to collide in one pure moment--a moment of death or life, farewell or forever.
Wow. How do you put into words the amazingness of The Wolves of Mercy Falls and give it the same justice that Stiefvater has? Truth is, you can't. The story of Grace, Sam, Isabel and Cole is told in such a way that no review can actually convey what you think and feel about the books as a whole. Each book I found myself falling more and more in love with these characters and that is all thanks to Stiefvater's amazing way with words. The way she described all the action packed adventure in Forever honestly made me feel like I was living the scenes myself. Every turn of the page made my heart pound faster. She turned what could have been an annoying trilogy about wolves into a masterpiece of art. By the time I finished Forever the story was more about the emotions, feelings and love then about the wolves of Mercy Falls. The trilogy became a love story of the greatest kind and I'm very thankful that I stepped out of my norm and read a truly phenomenal tale. The series as a whole gets 10 stars in my book.
Related Posts