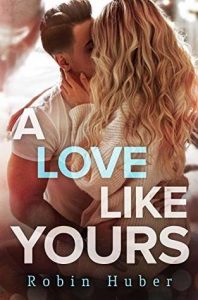 A Love Like Yours
by
Robin Huber
Published by
Forever Yours
Published:
May 21, 2019
Buy on Amazon
Add to Goodreads
True love deserves a second chance.

I've been a fighter all my life, even before I made it my career. As a kid in the foster system, I didn't have any other choice. But I've never fought for something--for someone--as hard as I fought for Lucy. I was her protector, her hero--and she was my everything. From the day we met, she made our grim days in Atlanta's notorious Brighton Park fade away--leaving only us.

But we broke each other's hearts, and we did a damn good job of it. A decade has passed since I last saw her, but not a day goes by that I don't think of her clear blue eyes or easy smile. So when I see her at one of my matches--and find out that she's engaged--I need to understand why she turned her back on me all those years ago. Because no matter what I do, no matter how many guys I knock out in the boxing ring, I can't forget her.

So I'm not giving up on her. I'm not walking away.

I'm going to fight for Lucy one last time.

A Story Like Ours, book 2 in the Love Story duet, will release June 18, 2019.

Love Story Duet:Book 1: A Love Like YoursBook 2: A Story Like Ours
I received this book for free in exchange for an honest review. This does not affect my opinion of the book or the content of my review.
Honestly, I had some issues with A Love Like Yours on a few points that made not love it like I thought I would. Don't get me wrong, it was entertaining and a fast read, but there were just things in it that I didn't love, Lucy being one of them. I loved Sam and how much he loved Lucy, but she just couldn't seem to make up her mind and had such little empathy for his feelings and faith in him that it annoyed me a lot more than I wanted it to. I also found Sebastian to be a little too much most of the time. And don't even get me started on Drew and his mother. They were taking advantage of Lucy and she was letting them and that really bothered me. Plus there was some really bad advice given. I know it sounds like I hated this book, but it didn't. I struggled with it and that is on me. I recommend not taking my word for it and trying it yourself.
A Story Like Ours
by
Robin Huber
Series:
Love Story Duet #2
Published by
Forever Yours
Published:
June 18, 2019
Buy on Amazon
Add to Goodreads
Praise for Robin Huber

"If you love second-chance romances, you do not want to miss this duet that delivers all the feels.."―Frolic

"A Love Like Yours has angst, heat, conflict, tension, and heart.... Fans of Meghan Quinn and Katy Evans will enjoy."―Harlequin Junkie

"Sexy, emotional, and heartfelt. I read this second chance love story in one sitting and eagerly anticipate A Story Like Ours!"―Mia Sheridan, New York Times bestselling author, on A Love Like Yours

"A story that doesn't shy away from the complexities of tangled hearts. Achingly romantic."―K.A. Tucker, USA Today bestselling author, on A Love Like Yours

"Robin Huber is a fantastic storyteller. A Love Like Yours is a breathtakingly romantic debut."―Melanie Harlow, USA Today bestselling author

In the riveting, powerful conclusion to the Love Story duet, Sam and Lucy discover that sometimes it's not about finding love, it's about saving it.

Even when we were kids, the connection between us was overwhelming. I knew Sam and I were soulmates, destined to be together. Breaking that love would mean breaking us. And for a little while, that happened. I lost the man who had always been my other half.

After too much heartache and too many years apart, we've finally found our way back to each other. But Sam's professional boxing career is getting in the way of our happy ending. I don't know how much longer I can watch him take another crushing punch, knowing each one knocks him closer to danger. He's killing himself. For me. For us. And for one tiny other...

Then the blow comes. It's not the one I thought it would be--fist in glove--but the result is the same. We're on the verge of losing everything we fought for. Everything we sacrificed for.

We thought we paid the price. We thought we had it all.

But what if my love isn't enough to bring Sam back to me?
I received this book for free in exchange for an honest review. This does not affect my opinion of the book or the content of my review.
After finishing A Love Like Yours (even though it wasn't a favorite) I needed to read A Story Like Ours to find out what happened after the cliff hanger of an ending in book 1. Sadly it just didn't work for me at all. Everything was a little too much and way over the top for my particular taste. The drama was just non stop and there was one part of the book that really had me scratching my head. I get that the author really wanted to test Lucy and Sam, but they were put through soap opera level drama and it just didn't work for me. Once again I know people that did enjoy it so check out their reviews and decide for yourself.
The Right Swipe
by
Alisha Rai
Series:
Modern Love #1
Published by
Avon
Published:
August 6, 2019
Buy on Amazon
Add to Goodreads
Alisha Rai returns with the first book in her sizzling new Modern Love series, in which two rival dating app creators find themselves at odds in the boardroom but in sync in the bedroom.

Rhiannon Hunter may have revolutionized romance in the digital world, but in real life she only swipes right on her career—and the occasional hookup. The cynical dating app creator controls her love life with a few key rules:

- Nude pics are by invitation only

- If someone stands you up, block them with extreme prejudice

- Protect your heart

Only there aren't any rules to govern her attraction to her newest match, former pro-football player Samson Lima. The sexy and seemingly sweet hunk woos her one magical night... and disappears.

Rhi thought she'd buried her hurt over Samson ghosting her, until he suddenly surfaces months later, still big, still beautiful—and in league with a business rival. He says he won't fumble their second chance, but she's wary. A temporary physical partnership is one thing, but a merger of hearts? Surely that's too high a risk…
I received this book for free in exchange for an honest review. This does not affect my opinion of the book or the content of my review.
I have been a fan of Alisha Rai since I read Hate to Want You so I was really excited for The Right Swipe. As someone who uses dating apps I was really into the idea of a book about one, and Rai did not disappoint. She nailed everything about this book. Rhiannon was amazing and powerful and didn't take crap and Samson was the perfect counterpart. There push-pull was really fun and the driving force of the book. The other great thing about Rai and her storytelling is the unexpected depth that she adds to her stories and The Right Swipe was no different. I truly enjoyed all aspects of this book and Alisha's writing. Highly recommend.
Related Posts