Here are a few brief thoughts on some 4/4.5 star Netgalley reads: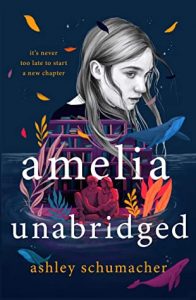 Amelia Unabridged
by
Ashley Schumacher
Published by
Wednesday Books
Published:
February 16, 2021
Buy on Amazon
Add to Goodreads
Eighteen-year-old Amelia Griffin is obsessed with the famous Orman Chronicles, written by the young and reclusive prodigy N. E. Endsley. They're the books that brought her and her best friend Jenna together after Amelia's father left and her family imploded. So when Amelia and Jenna get the opportunity to attend a book festival with Endsley in attendance, Amelia is ecstatic. It's the perfect way to start off their last summer before college.

In a heartbeat, everything goes horribly wrong. When Jenna gets a chance to meet the author and Amelia doesn't, the two have a blowout fight like they've never experienced. And before Amelia has a chance to mend things, Jenna is killed in a freak car accident. Grief-stricken, and without her best friend to guide her, Amelia questions everything she had planned for the future.

When a mysterious, rare edition of the Orman Chronicles arrives, Amelia is convinced that it somehow came from Jenna. Tracking the book to an obscure but enchanting bookstore in Michigan, Amelia is shocked to find herself face-to-face with the enigmatic and handsome N. E. Endsley himself, the reason for Amelia's and Jenna's fight and perhaps the clue to what Jenna wanted to tell her all along.
Ashley Schumacher's devastating and beautiful debut, Amelia Unabridged, is about finding hope and strength within yourself, and maybe, just maybe, falling in love while you do it.
I received this book for free in exchange for an honest review. This does not affect my opinion of the book or the content of my review.
Amelia Unabridged was a book I wasn't really sure how I would feel about it when I started it. It was a mix of friendship and common interest. But it was also a story about grief and being left behind. It's about how you gone on after a part of you is gone. And in the end I really enjoyed about 93% of it. I loved the story and the writing. And I loved how the fictional books were woven in to tell the story. I did struggle some with the love story and am not 100% sure it was needed. I also HATED the parents in this book so much I hurt. But all that aside this was just a wonderful story of losing your best friend and what that means about your dreams and plans.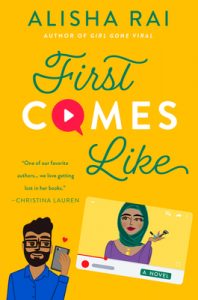 First Comes Like
by
Alisha Rai
Series:
Modern Love #3
Published by
Avon
Published:
February 16, 2021
Buy on Amazon
Add to Goodreads
The author of The Right Swipe and Girl Gone Viral returns with a story about finding love in all the wrong inboxes...

Beauty expert and influencer Jia Ahmed has her eye on the prize: conquering the internet today, the entire makeup industry tomorrow, and finally, finally proving herself to her big opinionated family. She has little time for love, and even less time for the men in her private messages—until the day a certain international superstar slides into her DMs, and she falls hard and fast.

There's just one wrinkle: he has no idea who she is.

The son of a powerful Bollywood family, soap opera star Dev Dixit is used to drama, but a strange woman who accuses him of wooing her online, well, that's a new one. As much as he'd like to focus on his Hollywood fresh start, he can't get Jia out of his head. Especially once he starts to suspect who might have used his famous name to catfish her…
When paparazzi blast their private business into the public eye, Dev is happy to engage in some friendly fake dating to calm the gossips and to dazzle her family. But as the whole world swoons over their relationship, Jia can't help but wonder: Can an online romance-turned-offline-fauxmance ever become love in real life?
I received this book for free in exchange for an honest review. This does not affect my opinion of the book or the content of my review.
First Comes Like is the 3rd book in the Modern Love series and is about Jia and Dev. The story is the perfect slow burn romance that allows the readers and the characters to take their time to know one another and I loved that. Dev and Jia are so completely opposites of one another but they somehow compliment one another and that made the story special. They were also HIGHLY respectful of each other and their beliefs which was also a nice things to see. I do wish there was a little more at the end. Just something added but Alisha Rai, how I have come to love your story telling.

Sandcastle Beach by Jenny Holiday
Series: Matchmaker Bay #3
Published by Forever
Published: March 9, 2021
Buy on Amazon
Add to Goodreads


From the USA Today bestselling "master of witty banter" (Entertainment Weekly) comes a hilarious and heartwarming romance about two enemies whose feud turns red-hot.

Maya Mehta will do anything to save her tiny, beloved community theater. Put on musicals she hates? Check. Hire an arrogant former-pop-star-turned-actor? Done. But what Maya really needs to save her theater is Matchmaker Bay's new business grant. She's got some serious competition, though: Benjamin "Law" Lawson, local bar owner, Jerk Extraordinaire, and Maya's annoyingly hot arch nemesis. Let the games begin.

Law loves nothing more than getting under Maya's skin, and making those gorgeous eyes dance with irritation. But when he discovers the ex-pop star has a thing for Maya, too, Law decides he's done waiting in the wings-starting with a scorching-hot kiss. Turns out there's a thin line between hate and irresistible desire, and Maya and Law are really good at crossing it. But when things heat up, will they allow their long-standing feud to get in the way of their growing feelings?
I received this book for free in exchange for an honest review. This does not affect my opinion of the book or the content of my review.
The first time I read Mermaid Inn by Jenny Holiday I immediately new a Law and Maya book was going to be something special. You could feel the enemies to more vibe with every page turn and I couldn't wait for more. And Sandcastle Beach, Maya and Law's book, gave me exactly what I wanted. On the surface, they could not stand each other. They would bicker and needle each other and desperately wait for the others reaction. But in reality they were smitten and just fighting it. You could see it coming a mile a way and it didn't make it any less special. They brought each other out of their comfort zones and where there for one another which is all you want in a solid relationship. Definitely what I was hoping for the story of these two, and a series you shouldn't miss.
Related Posts