Here are a few brief thoughts on some Holiday book reads: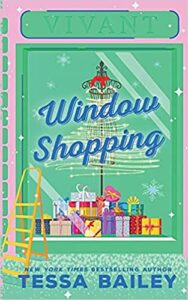 Window Shopping
by
Tessa Bailey
Published by
Tessa Bailey
Published:
October 19, 2021
Buy on Amazon
Add to Goodreads
Two weeks before Christmas and all through Manhattan, shop windows are decorated in red and green satin. I'm standing alone in front of the famous Vivant department store, when a charming man named Aiden asks my opinion of the décor.

It's a tragedy in tinsel, I say, unable to lie. He asks for a better idea with a twinkle in his eye. Did I know he owned the place? No. He put me on the spot. Now I'm working for that man, trying to ignore that he's hot. But as a down on her luck girl with a difficult past, I know an opportunity when I see one—and I have to make it last.

I'll put my heart and soul into dressing his holiday windows. I'll work without stopping. And when we lose the battle with temptation, I'll try and remember I'm just window shopping.
After reading and loving 2 Tessa Bailey books this year I knew I needed to read Window Shopping when I first heard about it. It seemed like a fun Christmas story about redemption and second chances with a little dash of the movie Mannequin. And truthfully it was exactly that. What I didn't consider was that it was a short book and with a short book comes things not getting to be fully resolved and a lot of instalove happening. Don't get me wrong, the story was fun and I truly loved Stella, but it was just too quick for my personal liking.  I would have liked a little more of Stella's background and to know more about where Aiden came from to really feel that connection with these two complicated characters but the surface was only scratched. But if you are looking for a quick holiday read, this is the book for you!

Duke, Actually
by
Jenny Holiday
Published by
Avon
Published:
November 16, 2021
Buy on Amazon
Add to Goodreads
USA Today bestselling author Jenny Holiday follows A Princess for Christmas with another delightful contemporary Christmas romance between a playboy baron and a woman who has said goodbye to love.

Maximillian von Hansburg, Baron of Laudon and heir to the Duke of Aquilla, is trapped. Under pressure from his domineering father, he must marry a suitable bride before he inherits a title that feels like a prison sentence. In New York to meet a prospective wife, he ditches his responsibilities and appears on Dani Martinez's doorstep. He's been intrigued by the no-nonsense professor since he met her at the Eldovian royal wedding and is determined to befriend her.

Newly single Dani is done with love—she even has a list entitled "Things I Will Never Again Do for a Man"—which is why she hits it off with notorious rake Max. He's trying to escape relationships, and she's resolved to avoid them at all costs. All they want from each other is friendship and a distraction from their messy lives.

As their bond begins to deepen, so does their attraction, until they end up in bed together. Falling in love was never part of the plan—Max's family doesn't see Dani as a perfect match, even as his heart tells him she's the one, and Dani isn't sure she can make it in Max's world. Can they find the courage to live they life they desire, even if it means risking everything?
I received this book for free in exchange for an honest review. This does not affect my opinion of the book or the content of my review.
When I read A Princess for Christmas in 2020 I immediately wanted another book set in the world of Eldovia. I was smitten with the characters of Max and Dani and I wanted their story! And in Duke, Actually I get just what I wanted and it was delightful. The way Max and Dani became friends and slowly pulled down each other's walls was exactly what I wanted in a book about the two of them. They were such great characters on their own but even better as a unit. Their bond was exactly what I liked to read in a book that is establishing a relationship and was a solid foundation for friendship to more. In a word..smitten. I was smitten with them and I think you all will be two. My one complaint…the title would have been a perfect line somewhere in the story. 🙂
*note, A Princess for Christmas and Duke, Actually are not listed as a series, but they are in the same world. You do not need to read Princess first but I personally recommend doing so.

I'm Dreaming of a Wyatt Christmas
by
Tiffany Schmidt
Published by
Amulet Books
Published:
October 26, 2021
Buy on Amazon
Add to Goodreads
Noelle Partridge is known for three things: being the best ballet dancer, babysitter, and person with the most Christmas spirit in her small town. But lately she's bored by the lessons at her dance school, and her friends and father are more bah humbug than Hallmark movie marathon. So when her favorite babysitting clients ask her to accompany them on a ski trip over winter break, she packs her bags for the slopes. It helps that they're offering double her rate—she'll need the money for Beacon, an elite ballet academy that's granted her an audition.

Noelle is ready to "Deck the Halls" and have fa la la la fun, until Wyatt, the older half-brother of her babysitting charges, decides to surprise his family for the holiday. He's one of the best dancers at Beacon, and makes Noelle's head spin faster than pirouettes. Unfortunately, she also manages to step on his toes—spoiling his surprise and complicating his secret plans. After a few missteps, Noelle and Wyatt begin to thaw toward each other and bond over the big decisions looming in each of their lives. With enough Christmas magic, Noelle might just start the New Year with lots of babysitting cash in her pocket and a chance with the pas de deux partner of her dreams.
I received this book for free in exchange for an honest review. This does not affect my opinion of the book or the content of my review.
I have read my fair share of holiday books in 2021, 6 or 7 total, and most of them were solid/cute. Fun holiday hijinks and romance. But out of all of them, I'm Dreaming of a Wyatt Christmas, is hands-down the holiday book winner for 2021. In fact I love it so much I have already read it twice. It is a quintessential Tiffany Schmidt book about growing up and figuring out your footing and not running from your problems. It also has an adorable romance, ballet, snow, and of course Christmas! It grabbed me right from the beginning with its smart writing and storytelling and made me yearn for hot cocoa and cozy PJs and the sparkle of holiday lights. (It did not make me yearn for snow.). Wyatt and Noelle were an adorable pairing and I loved seeing them interact with Wyatt's siblings, Jack and Holly. In the end this book was exactly what I needed to get me ready for the holidays and the book you will need too! Buy your copy today!!!
Related Posts