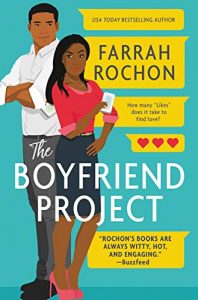 The Boyfriend Project
by
Farrah Rochon
Series:
The Boyfriend Project #1
Published by
Forever
Published:
June 9, 2020
Buy on Amazon
Add to Goodreads
USA Today bestselling author Farrah Rochon launches a new series about three young women who become friends when the live Tweeting of a disastrous date leads them to discover they've all been duped by the same man.

Samiah Brooks never thought she would be "that" girl. But a live tweet of a horrific date just revealed the painful truth: she's been catfished by a three-timing jerk of a boyfriend. Suddenly Samiah-along with his two other "girlfriends," London and Taylor-have gone viral online. Now the three new besties are making a pact to spend the next six months investing in themselves. No men, no dating, and no worrying about their relationship status . . .

For once Samiah is putting herself first, and that includes finally developing the app she's always dreamed of creating. Which is the exact moment she meets the deliciously sexy, honey-eyed Daniel Collins at work. What are the chances? When it comes to love, there's no such thing as a coincidence. But is Daniel really boyfriend material or is he maybe just a little too good to be true?
I received this book for free in exchange for an honest review. This does not affect my opinion of the book or the content of my review.
Every once and a while I have a friend that I do a buddy read with. We both love romances novels so we tend to pick one we both plan to read around the same time and read it together. Normally what we do is read 5 chapters and chat about it, 5 more chapters and chat about, and so on. We have read about 3 or 4 books together this way and had a lot of fun so when we both were planning to read The Boyfriend Project we decided to do it together. And while we both agreed on what we thought, I'm glad to have read it with her.
The Boyfriend Project was first brought to my attention sometime in 2019. It's the story of Samiah who unexpectedly finds out the guy she is dating has been dating 2 other women at the same time. When the girls confront him together they end up becoming friends and decide they should work on hobbies and things they love and leave guys out of it. Unfortunately this is the exact time Samiah meets Daniel, the new hire at her job. She tries not to like him but he makes it so hard that she has no other choice but to give in. What she doesn't know is that Daniel is keeping a secret from her, one that could change everything.
My feelings are complicated when it comes to The Boyfriend Project. On one hand I liked the writing style and the characters a lot. Samiah and Daniel had amazing chemistry and the 3 girls, Samiah, Taylor and London, had a fast friendship but it was believable. All of that and the theme of women being important in their jobs were all top notch. What I didn't love was how Daniel's secret was dealt with. I don't want to say too much because I don't want to give it away, but that really bugged me when I was reading. I just felt like it could have been handled differently and instead it took away some of my enjoyment. That was truly my biggest issue with the book.
In the end The Boyfriend Project was enjoyable and something I would recommend even if it did just miss the mark for me. It was a quick read and one I say to add to your TBR. Maybe do a buddy read like I did and discuss what you think with friends.
Related Posts