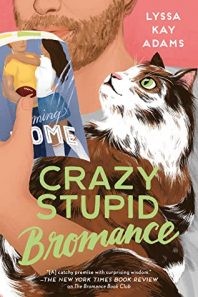 Crazy Stupid Bromance
by
Lyssa Kay Adams
Series:
Bromance Book Club #3
Published by
Berkley
Published:
October 27, 2020
Buy on Amazon
Add to Goodreads
A hacktivist and a cat café owner decode the friend zone in this romantic comedy from the author of Undercover Bromance.

Alexis Carlisle and her cat café, ToeBeans, have shot to fame after she came forward as a victim of a celebrity chef's sexual harassment. When a new customer approaches to confide in her, the last thing Alexis expects is for the woman to claim they're sisters. Unsure what to do, Alexis turns to the only man she trusts—her best friend, Noah Logan.

Computer genius Noah left his rebellious teenage hacker past behind to become a computer security expert. Now he only uses his old skills for the right cause. But Noah's got a secret: He's madly in love with Alexis. When she asks for his help, he wonders if the timing will ever be right to confess his crush.

Noah's pals in The Bromance Book Club are more than willing to share their beloved "manuals" to help him go from bud to boyfriend. But he must decide if telling the truth is worth risking the best friendship he's ever had.
I received this book for free in exchange for an honest review. This does not affect my opinion of the book or the content of my review.
Truth time…I was scared to read Crazy Stupid Bromance. I was highly entertained and amused by The Bromance Book Club. I love the idea of a bunch of men using romance books to help them with the women in their lives. It was different and fun and I was really looking forward to Undercover Bromance. Sadly though it was only good enough. It didn't have the same magic as book one. So when I read about Crazy Stupid Bromance I was a little worried. I had no way to know if it would be like Bromance or Undercover. Well the answer is either. It was above and beyond both because I am crazy, stupid in love with Crazy Stupid Bromance.
Crazy Stupid Bromance takes place about 18 months after Undercover Bromance and it  follows the story of Liv's friend Alexis and Mack's friend Noah. Since meeting the two have become best friends and are always there to support one and other. They have never tried to take it further as their friendship is so important to them. That is until Liv gets some life altering news…a family she never knew needs her help. Now Liv is leaning on Noah to get her through this and feelings they have both been trying to deny come to the forefront and they need to decide if going after what their hearts want is worth the friendship they have come to rely on.
Hands down Crazy Stupid Bromance is the book that has the couple with the most chemistry. Noah and Alexis are the perfect friends to lovers kind of couple. They have such a strong friendship that easily translates into a relationship because first and foremost they are there for each other when they need one and other. This is what I loved about them most. I admit I was worried with the added drama with Alexis' "new" family and what they needed from her, but it worked and helped Alexis and Noah be even better for one another. These two were truly stars of the series.
In the end I'm so happy I didn't give up after not loving book 2. Crazy Stupid Bromance was just what I needed to remember why I started this series in the first place. The magic was back with this one. Do I have any complaints? Yup. There wasn't enough Beefcake. 😀 But truly this is one you need on your TBR. I hope there are more in the series just like this gem.
Related Posts