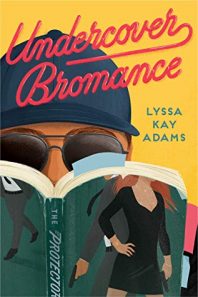 Undercover Bromance
by
Lyssa Kay Adams
Series:
Bromance Book Club #2
Published by
Berkley
Published:
March 10, 2020
Buy on Amazon
Add to Goodreads
Braden Mack thinks reading romance novels makes him an expert in love, but he'll soon discover that real life is better than fiction.

Liv Papandreas has a dream job as a sous chef at Nashville's hottest restaurant. Too bad the celebrity chef owner is less than charming behind kitchen doors. After she catches him harassing a young hostess, she confronts him and gets fired. Liv vows revenge, but she'll need assistance to take on the powerful chef.

Unfortunately, that means turning to Braden Mack. When Liv's blackballed from the restaurant scene, the charismatic nightclub entrepreneur offers to help expose her ex-boss, but she is suspicious of his motives. He'll need to call in reinforcements: the Bromance Book Club.

Inspired by the romantic suspense novel they're reading, the book club assist Liv in setting up a sting operation to take down the chef. But they're just as eager to help Mack figure out the way to Liv's heart… even while she's determined to squelch the sparks between them before she gets burned.
I received this book for free in exchange for an honest review. This does not affect my opinion of the book or the content of my review.
In 2019 I read the beginning of a new series, The Bromance Book Club. It was fun and quirky and made me laugh. There was something oddly entertaining about a group of alpha males, mostly professional sports players, reading a romance novel and taking "pointers" from it. It was refreshing in a sense. So when I heard about book 2, Undercover Bromance, which was featuring my one of my favorite guys from book 1, was coming out I was thrilled. And while Undercover Bromance was good enough, for me it was missing some of the magic book one had and I can't place why.
Undercover Bromance is about Mack and Liv, two characters we met in The Bromance Book Club. Mack is a brazen club owner that started the book club and Liv is the sister-in-law of one of the members. The two met in book one and Liv didn't have the best first impression of Mack. But soon Liv finds she needs his help when she is fired by her jerk of a boss when she witnesses him harassing someone. As Mack and Liv work to uncover her former's boss's misdeeds, they also try to ignore their growing attraction. That is until the book club steps in.
I think one of the things I didn't love about this one was the lack of the book club time. In book 1, we got a lot and that was the highlight of the story for me. That felt lacking in Undercover Bromance. The book club was a huge part of Mack and I just felt like it wasn't a huge part of the story. Also, I didn't really love Liv. As a couple, I loved Liv and Mack together (more on that in a bit) but on her own I found her more on the annoying side than anything. She was almost too "I can too everything alone" for my liking. What I did love was Liv and Mack together. When they both let down their walls around the other I found magic there. They had great chemistry and I was yearning for more of that in the book.
All in all not my favorite of the two books in the series but I am excited for book 3. There is something endearing about the book club that makes me want to come back for more and more and I plan to do just that with book 3, Crazy Stupid Bromance.

All I Ask
by
Corinne Michaels
Published by
Forever
Published:
March 17, 2020
Buy on Amazon
Add to Goodreads
From the New York Times bestselling author of One Last Time comes a breathtaking story about first love, second chances, and starting over.

Timing is everything...

As the head cheerleader at her small-town high school Teagan never expected to become best friends with Derek, the cute, shy son of the town veterinarian. Over the years, even though Tegan was dating the star of the football team, she couldn't hide her growing feelings for Derek. But just as Teagan is finally ready to confess her feelings for Derek, she finds out she is pregnant, and Derek has moved on.

It was only after he married his college sweetheart that Derek realized that he was in love with his best friend Teagan. Determined to do what was best for his family, he cut Teagan out of his life. Thirteen years later, still harboring guilt for his failed marriage and his wife's death in a tragic accident, Derek finds himself back in his hometown with his daughter.

When it seems that fate has given them a second chance, Derek and Teagan realize it might finally be their time. Just as Derek and Teagan's happily ever after comes into focus, Teagan is offered the chance of a lifetime-to start a new life with her daughter, something she's wanted for years. But now that Derek is back in her life, it's not so easy to pick up and leave. Just when she finally has something real, can she leave it for her own dreams?
I received this book for free in exchange for an honest review. This does not affect my opinion of the book or the content of my review.
A friend of mine told me to check out All I Ask knowing that I love a good second chance romance, best friends to love, and a good flashback book. I was really excited to check it out since it had all of the pieces I love. And although I enjoyed it enough and it was a quick read sadly it wasn't a favorite of mine. It ended up being a just so-so kind of book.
All I Ask is Teagan and Derek, two friends that stopped speaking 10 years ago. Teagan has always been in love with Derek but between her pregnancy and his marriage and impending fatherhood things never worked out. But 10 years later they find themselves once again living in the same town and being thrust upon each other. With nowhere to go the two of them must face what went wrong between them all those years ago and how they feel about each other now.
My struggle with All I Ask was the flashback scenes. I loved almost all of the current stuff. I loved seeing Derek and Teagan get back that ease they once had. I loved seeing how they each dealt with their daughters not getting along, how they dealt with their past. That was all really good and enjoyable. But the flashbacks to the past ended up taking me out of the book. It took away from the story in my opinion and didn't add to it. I'm not sure why, but they just didn't work for me personally.
This was a quick book that took no time to read, but it didn't 100% work for me. There was something missing in the end. All I Ask was an okay read but that is just my personal opinion. You should definitely pick it up and make your own judgement. In the end you may be happy you did.
Related Posts