I don't know if you guys have heard, but I freaking love love love today's Second Chance Sunday. I don't know if I have ever mentioned my love of St. Clair or of Anna or of every single thing about Anna and the French Kiss. Yeah, I'm certain I have never mentioned my love of it or the fact that I have read it four times. 😀 In all seriousness I know I have told every single one of you that you need to read this book whether you have read it or not and I'm here again to tell you all to read even if you already have. Love, just love!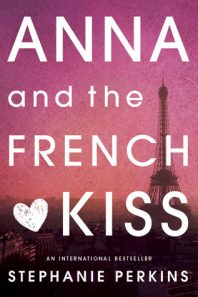 Anna and the French Kiss
by
Stephanie Perkins
Series:
Anna and the French Kiss #1
Published by
Dutton Juvenile
Published:
December 16th 2013
Buy on Amazon
Add to Goodreads
Anna is looking forward to her senior year in Atlanta, where she has a great job, a loyal best friend, and a crush on the verge of becoming more. Which is why she is less than thrilled about being shipped off to boarding school in Paris--until she meets Étienne St. Clair. Smart, charming, beautiful, Étienne has it all...including a serious girlfriend.

But in the City of Light, wishes have a way of coming true. Will a year of romantic near-misses end with their long-awaited French kiss?

I have read this book three times now, yes 3*, and it has somehow gotten better each time I pick it up. There is something about this story that just makes me feel good and. Find myself going back to it again and again. It gives me this feeling of peace that is hard to describe. Between the friendships, the relationships and the back drop of Paris it transports me to a very happy place that I don't seem to want to leave or forget.
The book is about Anna, a girl from Atlanta, that is forced to go to Paris for her last year of high school. Not knowing the language or anyone at her new school Anna is left alone and missing her best friend Bridgette and her crush that was possibly turning into something more, Toph. She is surrounded by unfamiliar everything and all she wants to do is go back to the safety of Atlanta. And then her next door neighbor Meredith takes her in and introduces her to her friends and the one boy that changes everything, St. Clair. Etienne St. Clair, the boy dreams are made of. All of a sudden France isn't so bad. Pretty soon Anna has a life in France and friends, Meredith, Josh, Rashmi and St. Clair. They break Anna out of her shell and comfort zone and show her Paris isn't so bad. And when things start to get complicated at home Anna wants nothing more then to retreat back to the place she had been desperate to escape, back to St. Clair. Too bad there are two problems with this. She is not only head over heels in love with him but he has a girlfriend.
I honestly don't know how to even begin to describe Anna and Etienne's relationship. It is so perfectly crush worthy, adorable that I'm not sure I can give it justice. I mean reading about these two made me crave that feeling you get when you have an honest to God crush. The anticipation you feel when you see that crush was the feeling I got with every page I turned and Anna and St. Clair went from buddies to Anna and Etienne, maybe more then buddies, to Anna and St. Clair that won't cross any lines to Anna and Etienne the couple crazy about each other. Every emotion they felt, every conflict of uncertainty that was there I felt too and that made the characters and this couple in particular a work of greatness. And the way that Perkins showed cased Anna's feelings, towards this boy that had her all over the place,  by having Anna call him St. Clair and Etienne was just masterful and the perfect way to describe their ever changing relationship.
Stephanie Perkins wrote an amazingly superb book about figuring out what you want out of life, dealing with crushes and relationships and knowing what is worth it. Truthfully I will never accurately describe the amazingness of this book and the feelings it gives me. It is pretty impossible to put into words. Maybe the fact that I have read it 3 times in less then 2 years will help. Haha. A definite must read…at least once.
*count is now up to 10. 🙂
As an added bonus, here is what I dressed Anna in for a challenge that was requested of me. Basically sums up the character in my opinion.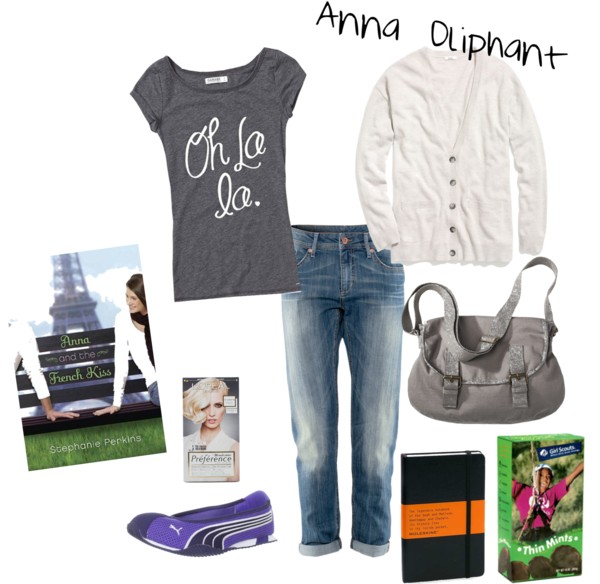 Have you read Anna yet? What do you think of my version of what she would wear? Did I do good?
Related Posts